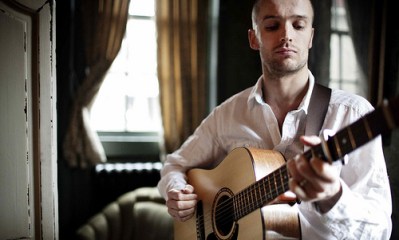 Acoustic Jim
It's not every day that you come across an artist who casually goes by the name Acoustic Jim. The Londoner has been circulating around bars and clubs in the city for some time now. Jim Hustwit's legion of fans continues to grow as his accessible blend of folk, pop, and soul bring out comparisons to commercially successful artists like Jason Mraz, James Morrison, and Jack Johnson.  Jim was crowned 'best male solo artist' at The People's Music Awards in 2010 and has just followed up two previous EP releases with his debut album, Hanging Up My Cape.  As with many solo acoustic artists, Jim struggled in lifting his vocals to the grandiose heights of many four or five-piece bands, which may be why he recruited The Wires to join him on the new album.
This support helps to lift his sound from pub-singer to national superstar status, with multiple sounds and influences being placed into each track. Perhaps disappointingly, Jim's biggest claim to fame to date is previously holding a day job as the marketing manager at Jamster, that annoying ringtone company who was responsible for the Crazy Frog, which ironically knocked Coldplay from the number one spot a few years back. "Hanging Up My Cape" doesn't look set to emulate the same success but is a nice easy-listening album that perfectly complements the summer months. Jim just released the video for his first single release from the album, called "Time". It's a quirky animated video with two characters attempting to fulfill all of their life goals before kicking the bucket (so to speak). It's a quirky and endearing feature.
———————————————————————————————————————————-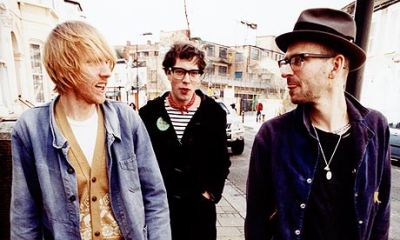 Male Bonding
According to Wikipedia, "male bonding" is a term that is used in ethology, social science, and in general usage to describe patterns of friendship and/or cooperation in men. I'm going to be honest. I thought it was something entirely different; the sort where less said about it is for the better.
Male Bonding is also noise-pop trio from the depths of Dalston.  Their first release, Nothing Hurts, was well received and created heaps of hype around the fast and fuzzy fellows, who a year later are bringing us their new album Endless Now.  They continued along the punk road, stopping off at surf-rock street on the way with a slight lean towards a power pop junction. They don't have a vicious punk vibe. Rather, a softer and more infectious sound is prevalent. Take "Bones" for example; it has a softer rock sound, and the flashes of heaviness come from the clamoring percussion which penetrates the foreground of the song. This percussive element is abundant throughout the trio's efforts.
Their song structures are very accessible, which I wonder whether or not is due to the difficulty of interweaving their hybrid of pop with other less traversable methods. They are confident and dead-set in heavy etching when it comes down to business, although they've attempted to shift them out of shape as much as possible. The oxymoron-loving Endless Now was released on August 26th and is worth a listen if you are a fan of The Vaccines, The Strokes, and Health.
Male Bonding – Paradise Vendors
———————————————————————————————————————————-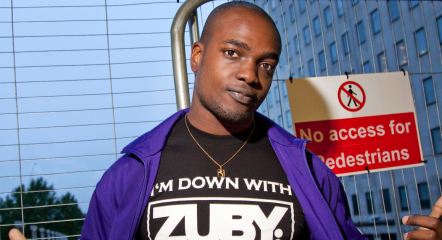 Zuby
It's rare these days to find a gem in hip-hop. We live in a period of often mindless lyricism about money, drugs and guns. But there is still hope with a number of new emerging artists, one of which is in the form of 24-year-old Zuby.
Since 2006 the London-based rapper has sold more than 6,000 albums without record label support, spending most weekends selling his music hand-to-hand on the streets, one fan at a time. He is an anomaly in the world of hip-hop, having achieved an honors degree from Oxford University while building up a successful career in music. He has released three independent albums to date.
Zuby has a captivating sound fuelled by his hybrid accent; he moved to Saudi Arabia at a very early age and was educated at an American school before coming back to the UK. His voice sounds American at times, with a British twang that intersects with an exotic rhythmic ability native to the Middle East or Asia. His new track, "Stay in My Lane" is Zuby's first venture into dubstep. He fuses sounds that make his music more tailored to dance floors nationwide, having already been picked up by a number of DJ's. It's a winning concept that is bound to increase Zuby's seemingly ever-growing army of young followers.