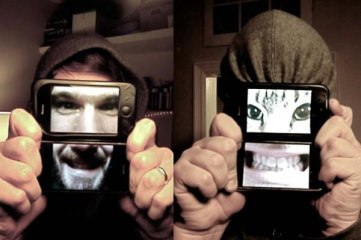 David Fendick and Jonny Hooker are two multi-instrumentalists from Leeds, UK. Together they are Fossil Collective, an alternative-folk band influenced by artists like Simon and Garfunkel, Neil Young, and Fleetwood Mac. It's easy to dismiss the band's sound as standard indie-folk with your parents' favorite groups as their influences. However, on closer inspection, you can hear complex guitar work in a similar style to Midlake, or beautiful melodies like Bon Iver. All the while, the band retains their own signature style of effective harmonies overlapping various layers of instrumentation.
Their debut EP was released in 2010 to justifiably glowing reviews. Honey Slides EP is a three-song stroke of success. It showcases the duo's brilliant talent as songwriters, musicians, and vocalists. On each of the songs, their production appears as the work of a veteran; the instrumentation is not overly dense, but also not too thin. This is because they write songs to fit the sound they want, rather than writing songs to fit the usual five-piece band. If they want a particular sound on a track, be it slide guitar or violin, they drag someone specific into the studio to play it. This is why they called the band Fossil "Collective"; it's an assortment of contributing musicians that alternate based on David and Jonny's musical needs. Their success shows this as a very effective system, at least for them personally. When I asked the duo how they write their songs, they told me Jonny often comes up with an initial idea on an acoustic guitar, and then Dave helps build the song to its final product. Their lyrics are a collective effort.
Honey Slides EP opens with "On and On", an upbeat song with a catchy melody. Its relatively basic structure is not at all a weakness due to the excellent musicianship all around. Both the lead and backing vocals are perfect; the rhythm section is intricately written to get the right sound, and there is even a flute solo! The EP then moves on to a contrasting slow number. The intro of "Without a Fight" touts a relaxed slide guitar which sets up perfectly for the tranquil sounds that unfold. The two-part harmony is sung beautifully over the peaceful accompaniment. The drum work is so light that, if it wasn't for the rolling sense of rhythm, you'd barely notice it was there. It's a lovely, lush song that serves as one of the EP's highlights.
The final track of the Honey Slides opens with gorgeous, a-cappella vocals. It continues into the most powerful of the three songs, "When Frank Became an Orb". The song is full of emotion, eventually fading out as a tease – leaving listeners wanting more. This effort sounds like their final goodbye as small, independent musicians before their full-length is released and they inevitably gain well-deserved fame. Honey Slides EP is a must-have for any fan of the alternative-folk-rock scene.
Fossil Collective's debut LP is due to be released early next year. If it's anything like this EP, it's well worth looking out for. They have completed ten tracks so far and still have three to record Once the album is finished, they intend to "tour like mad", so we should all have the privilege of seeing them in a nearby town. These guys are up-and-coming talents that are going to be up there among the indie-folk elite.
RIYL: Radiohead, Manic Street Preachers, Fleetwood Mac, Muse, Kasabian, Oasis, PJ Harvey, Blur, Blonde Redhead, The Verve, The Flaming Lips, Train, Franz Ferdinand, Field Music
Fossil Collective – When Frank Became an Orb

Fossil Collective – Without a Fight

Official Site / MySpace / BUY