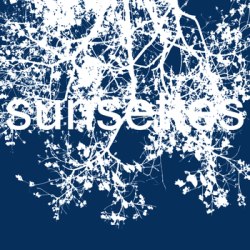 Sunsettes are a Tampa-based duo specializing in funk-tinged indie-rock. Comprised of Nathan Kozyra and Michael Schlein, Sunsettes quietly released their debut Coup de Grace last December. Their compositions are frequently led by acoustics and keys, with Kozyra assuming a vocal delivery incorporating both stream-of-conscious narratives and straightforward romantic metaphors. Although the instrumental arsenal is mainly limited to guitars, keys, and percussion, several songs venture beyond. The inclusions of brass on "Ease In" go well with the vocal climax slightly after the two-minute mark, while the tropical-sounding "Get It" is guided by quick guitar swipes and jumpy keys that resemble the sounds of a marimba.
The dependence on keys in several songs also lends to some interesting stylistic ventures. "Foolish Devotion" resembles swampy jazz and R&B with its lush piano melody and whiskey-aided murmur; you could picture this being played in a modern speakeasy. The burst of brass at around the 01:18 mark is somewhat surprising for its soaring optimism, but it cohesively fits into place once the track showcases the remaining verses with an extra added percussive kick. The key-heavy tone is also prominent on "Parallel Lines". This one is a loving duet, with a sharp contrast between high-pitched excitement and deep nonchalance. There is a fascinating orchestral transition, complete with strings and fascinating reverb effects, around the two-minute mark. From that point, the track flexes its muscles between the somber piano ballad and screeching electric guitars. Is it a bit messy? Sure. But that's part of its DIY appeal.
A prominent standout is "If We Talk", the best example of the duo's hook-laden songwriting ability. The twangy guitar lead is front-and-center with softly twinkling keys echoing over angelic female harmonizing. Kozyra and Schlein's lyrics are best in these instances, describing relatable instances of a modern romance with sharp wit and humor. "I turn around and you're right there waiting, just give me time and I'll be alright," he sings over the smattering of guitar progressions. The outstanding bridge at the song's mid-point is beautifully incorporated, featuring heavily emotive vocals that are contrast to the usual nonchalance throughout the album, like on the excellent "My, Oh My", which resembles a fusion of Destroyer and The Mountain Goats in the most complementary way possible.
Coup de Grace is available as a free download on the band's Bandcamp. It's highly recommended for any fan of infectious indie-rock. And as simple as that sounds, there is plenty of innovation to be found on this album. Plus, Kozyra is currently working on material more reminiscent of late '70s soul, funk, and R&B. Considering the potential showcased on Coup de Grace, it would be prudent to keep an eye on both Kozyra and Schlein.
RIYL: Destroyer, The Mountain Goats, The National, The New Pornographers, Silver Jews, Blackout Beach, The Wrens, Okkervil River, Beulah, The Apples in Stereo, Guided by Voices