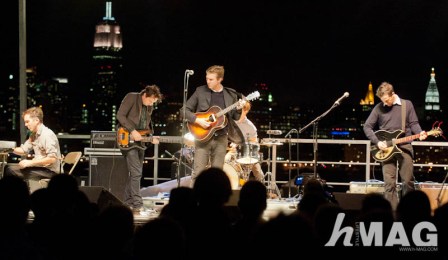 If you weren't in Hoboken this past Sunday, you missed a great live performance. The Walkmen played for free as part of the hMag Music Fest 2011. The backdrop was breathtaking; the Manhattan skyline at night was on full display. Bands played all day and the Fest featured School of Seven Bells as an opener for The Walkmen. By the time I arrived for The Walkmen show the crowd had only swelled to about 200 people. The set was intimate, and it felt as if I was on location for a filming of a scenic music video. If a semi-private Walkmen show was not enough, Ben & Jerry's was also handing out free ice cream! For the lucky few that noticed the advertisements for the hMag Music Fest on the PATH trains, it was an unforgettable night.
The Walkmen boast an eclectic mix of characters. I felt as if Dennis Wilson had been resurrected from the dead when I saw their drummer, Matt Barrick. Complete with a checkered button down shirt and a clean haircut, Barrick was a spectacle to watch. He had so much energy that he often looked like a jumping bean behind the other members. Hamilton Leithauser's voice was commanding, and while all the members contributed to this excellent show, Leithauser was the connecting thread that incited enthusiasm in the audience.
Many bands falter live. The Walkmen flourished. The acoustics and vocals were arguably more exciting than their studio counterparts. They did not attempt to sound as close to the album cuts as possible, but rather embraced the purpose of a live performance: to give the listener an artistic creation built on an understanding of music fundamentals, but driven by passion and interconnected chemistry. The vocals, drums, and guitars were not as calculated and one could see the band members working together as a collective conscious.
Leithauser's vocal performance during "In the New Year" was outstanding, as was the appearance of a new song that many are calling "Your Southern Soul". It is a very intimate track, just like the venue, and you can see a clip below. It is a preview of their next album, which the bands hints will be a lush affair more representative of their acoustic talents. If it's as subdued as they say, let's just hope the ingeniously ferocious drumming of Barrick doesn't go underused.
The Walkmen – We've Been Had (live 10/16 at hMag)
The Walkmen – Blue As Your Blood