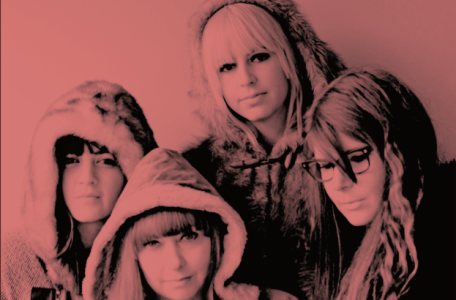 Feathers are four girls from Brisbane creating infectious lo-fi dream-pop. While some of their songs are lively and upbeat, a large number are darker and based on harmony rather than rhythm. Hunter's Moon is an album full of different moods and well-executed hooks, not to mention some great vocal performances that are far from gender-specific.
I'm generally a fan of music where the singer's gender is indistinguishable, like the recently featured Black Partridge. Upon my first listening of "Darklands" I did not realize it was an all-girl group. The poppy guitar deliveries are reminiscent of bands like Girls and Malajube, and the vocals tout a similar punch as well, but the gender was still enjoyably indiscernible. The majority of Feathers' songs are hazy pop gems with plenty of replay appeal and "Darklands" is no exception.
Feathers utilize many intricately evolving harmonies that resound with an art-rock punch. This tactic helps to give them a full sound, almost as if their voices are making up for the absence of an orchestra. "Early Morning" begins with a collective voice. The song is much slower than tracks like "Darklands", with a chill intentionally drawn-out vibe, whereas "Cruel For Love" applies a rhythm section reminiscent of post-punk greats like Joy Division.
I look forward to seeing what Feathers release next. A comfortable and dazed album is always in high demand for those lazy days, and along with the likes of Beach House and Toro y Moi this group could be your next best bet.
RIYL: Beach House, Joy Division, Girls, Malajube, Yeah Yeah Yeahs, Sleater-Kinney, Twin Sister, Grizzly Bear, Wild Nothing, Best Coast, Beach Fossils, Cults, Tennis
MP3: Feathers – Darklands

MP3: Feathers – Cruel For Love

Official Site