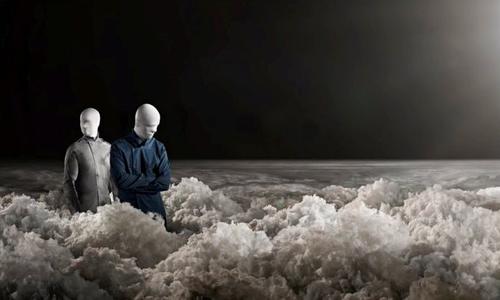 Straddling the fence with musical styles can be a smashing success… or simply make your crotch tired. Luckily for Monarchy, a British duo currently signed to Mercury Records UK, their blending of genres works in spades. The group is infectious, melodic, lyrically interesting and – most importantly for their synth-pop niche – totally danceable. The men of Monarchy have managed to turn out consistently layered and funky tracks since their debut in 2009. Most commonly referred to as synth-pop artists, Monarchy stretch the definition a bit, and their debut album, Around the Sun, would be equally at home in the playlists of a Chemical Brothers' fan or a Mike Posner addict.
A Brief History
They first gained some attention in late 2009 when The Guardian chose them as their online "Band of the Day".  Monarchy is comprised of vocalist Edward Nigma and  Peter Uzzle, and the duo's first two singles, "Gold In The Fire" and "Black The Colour of My Heart", were released under Neon Gold Records in early 2010.  While "Gold in the Fire" felt a little uncertain, "Black, The Colour of My Heart" was nothing if not assured.  With a slow build-up at the top of the track and the addition of a simple drum track, plus Edward Nigma's 80s R&B-influenced tenor vocals over the top, "Black…" was a clear sign of things to come for the duo.
Their musical style is difficult to define, and they are notoriously cagey about revealing too much about themselves or their music.  They rarely give interviews, and there is little information about them available online.  Their web site focuses on their music and touring schedule, but delivers no insight into the duo or their process.  Their music and live shows have to speak for themselves.
Live Performance
They began performing live in June of 2010, becoming the first band to beam a live concert into space while performing at Cape Canaveral in the United States.  Throughout the rest of 2010 and much of 2011, they have toured extensively, building a growing reputation for excellent live shows.  Though they are not often known going into the concert, it is not uncommon to hear recently converted fans cite the duo as "the best performance of the festival", or their "new personal favorite" on their way out of the venue.  They have appeared at XOYO, HMV Forum, Eurosonic (Holland), MIDEM (Cannes), Coachella, the Hay Festival in Wales, and the Melt! Festival in Germany, among other festivals, and are scheduled to perform at at KOKO in the UK, Tunnel in Italy, the Together Winter Music Festival, and at the Highline Ballroom in New York in the month of November 2011 alone.
Around the Sun
July 2011 saw the release of their first album, Around the Sun. In keeping with the stylistic fusing that made their debut tracks so fascinating, Monarchy released two tracks from the album back-to-back, "Maybe I'm Crazy" and "You Don't Want to Dance with Me".  "Maybe I'm Crazy" is a lush track that feels like the electronic answer to Coldplay's "Clocks".  While the second track, "You Don't Want to Dance with Me" featuring UK artist Britt Love, rests somewhere between Morcheeba, Duran Duran, and Lady Gaga.  It packs a semi-Gothic bass line, reminiscent of Enigma and combined with a catchy melody shared between Mr. Nigma and Ms. Love. This is tied together with a spare drum beat and a notoriously hummable chorus, all making "You Don't Want to Dance with Me" ripe for excessive radio play.
Remixes and the Future
In addition to the very solid work displayed on "Around the Sun", Monarchy has also successfully remixed tracks for multiple artists, including Lady Gaga's "Dance in the Dark" for her remix album, Jamiroquai's "White Knuckle Ride", Kylie Minogue's "Better Than Today", and Ellie Goulding's "Starry Eyed", among many others.  All of their remixes display their penchant for borrowing from multiple musical influences.   They are not overly precious about the original tracks, and will slow music down, layer multiple rhythmic tracks over the song, play with the melody, and literally construct something new, but still recognizably tied to the original.  It is a direct testament to the musical genius of a duo that is clearly just getting warmed up.  It will be very interesting to see what they create, and how they continue to innovate over the next few years.  If you have the chance to see them, rent a car, pay for some drink driving insurance, and head straight for the venue.  Getting a ticket to see them now is still pretty easy, but it is only a matter of time before the awesome secret that is Monarchy is let out.
RIYL: The Chemical Brothers, Penguin Prison, Fenech-Soler, Bag Raiders, Miami Horror, Anoraak, Grum, Minitel Rose, Holy Ghost!, Tesla Boy, The Golden Filter, Private
MP3: Monarchy – Black The Colour of My Heart

Monarchy – You Don't Want To Dance With Me (feat. Britt Love)
MP3: Monarchy – The Phoenix Alive

Monarchy – Love Get Out Of My Way (Sinden Remix)