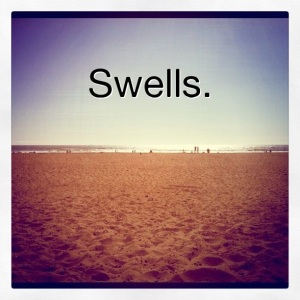 MP3: Swells – Lost At Sea

Swells are a quartet residing in San Francisco. Their new release, a collection of self-recorded demos, presents laid-back indie-rock with relaxing West Coast vibes akin to The Morning Benders and Surfer Blood. Swells contains four varied and exciting songs that should appeal to most indie-rock fans, especially if they're fans of The Walkmen.
"Lost At Sea" is a very strong opener. Comparisons to The Walkmen's Hamilton are immediately apparent. Singer Ian Bruce has similar versatility and fervor, his voice alternating between high-pitched yelps and drawn-out pronunciations. From start to finish, Swells is a delightful listen that gives me the feeling of being on the California coastline. When I opened my eyes, it was still fall on the East Coast, and the Hudson River was still my closest shore, but the sweet feeling of Californian indie-rock was taking over my ears. The instrumental arrangement is zesty without being overpowering. Swells find excellent balance between guitar, drums, and vocals. Bruce's vocals jive perfectly and have an intriguing flavor. Like Leithauser's voice, his contains a slight twang that brings a bit of country-rock to the table. It is almost impossible to not instantly like "Lost At Sea".
"Ships Set Sail" rolls at a slower pace than "Lost At Sea" at first, with Bruce's voice sounding more Julian Casablancas than Leithauser. In the middle the song picks up in a fluid manner and moves between its fast and slow progressions, reminiscent of swift rock-pop groups like The Strokes and Two Door Cinema Club. Again, the song relies heavily on guitar and drums that highlight Bruce's strong vocal performance. Swells' ability to introduce simple melodies while infusing a wide vocal range keeps the level of accessibility high. This is definitely a track that will be on repeat.
"Ships Set Sail" continues by seamlessly transitioning into "For Miles". The release's third song is packed with intricate guitar work and tight drums, which create smooth overlapping harmonies inspired by dexterous surf-rock. "For Miles" slowly fades out, leaving the listener wanting more.
Swells is a great showing from this new group. Even though it is bursting into a well-known genre, it does so with a strong, clear voice.
RIYL: The Walkmen, The Strokes, Surfer Blood, The Morning Benders