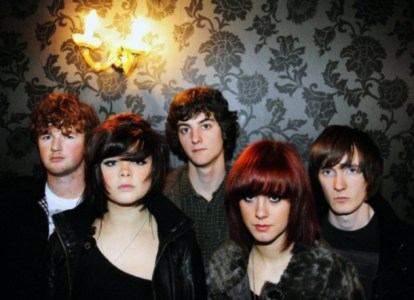 Birmingham five-piece The Arcadian Kicks recently released their newest single, "You Play the Girl". This new offering is a noticeable step towards the mainstream for them, at least compared to the neo-psychedelic organ infusions of past efforts like "I Can't Sleep". However, they haven't lost their roots, still carrying a sound packed with wailing guitars reminiscent of '80s groups like The Police and power vocals akin to Blondie, combining for a constant flurry of hooks that makes such '80s comparisons immediate.
Since signing to One Beat Records a few years back, The Arcadian Kicks have not stopped gigging. To compensate for the lack of studio time, the five-piece are vowing plenty of new material to be released over the next year. They've already had a few studio sessions with someone who has a very clear vision of their attempted style…
Mike Chapman, who produced for artists such as Blondie and Suzi Quatro, is behind all of this new work and has praised the band publicly. "I can honestly say that making this record was right up there with the best work I've done," he said. "Any time you get to work with kids who have their kind of skills, you are reminded on a daily basis of why you got into this business in the first place."
They're also giving away the new track ("You Play The Girl") for free on their Facebook page. As a bonus for their imminent publicity, the track has been selected to be part of a worldwide compilation album for Gap. Personally I'll be giving the Zuckerberg-esque Gap hoodie a miss, but I will take the single!
RIYL: Blondie, The Police, Fleetwood Mac, Love Is All, Sonic Youth, The Horrors,  Yeah Yeah Yeahs, Cyndi Lauper, The Pretenders, ABBA, Eurythmics, Kate Bush, Heart
MP3: The Arcadian Kicks – You Play the Girl

MP3: The Arcadian Kicks – I Can't Sleep