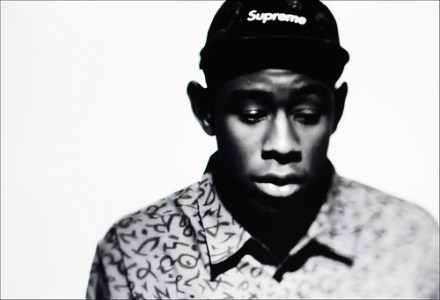 Apart from the ongoing spat with Tegan and Sara, Odd Future's Tyler, the Creator has been relatively quiet on the news front as of late. His second solo full-length, Goblin (review), dropped earlier this May. It was generally a mixed bag; there was a noticeable amount of filler, but also some great tracks ("Transylvania", "Fish / Boppin' Bitch", "Tron Cat") that showed why Tyler and Odd Future have become such big names this past year.
Whether or not critics like Tegan and Sara will continue to find fault with Tyler's controversial lyrics is up in the air — after all, complaining is a hobby to some people. At the very least, Tyler's forthcoming full-length Wolf may temporarily halt complaints about his alleged obsessions with rape and murder. In addition to Wolf following the path of a Bowie or Kevin Barnes by assuming an even crazier alter ego (Wolf Haley), Tyler told Spin that his newest album will be more in line with "weird hippie music for people to get high to". Here's an excerpt:
"Talking about rape and cutting bodies up, it just doesn't interest me anymore," he says, contemplative and sincere, looking directly into my eyes, now sitting cross-legged on the hotel bed. "What interests me is making weird hippie music for people to get high to. With Wolf, I'll brag a little bit more, talk about money and buying shit. But not like any other rapper, I'll be a smart-ass about it. Now it's just girls throwing themselves at me and shit, but I got a girl back home. People who want the first album again, I can't do that. I was 18, broke as fuck. On my third album, I have money and I'm hanging out with my idols. I can't rap about the same shit."
These claims aren't anything new. Tyler said something similar when Wolf was first talked about earlier this year. All we can do is wait. Let's just hope it isn't as bloated as Goblin.
Tyler, The Creator – Fish/Boppin' Bitch