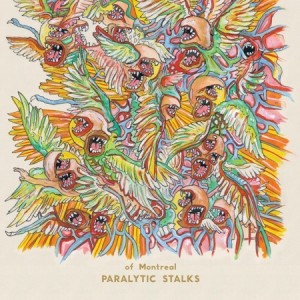 of Montreal are offering a full stream of their upcoming album Paralytic Stalks, out February 7th. Check out Spin for the stream, and a very helpful track-by-track account by frontman Kevin Barnes.
Polyvinyl said that Paralytics Stalks contains "an infinitely more personal nature than anything Kevin Barnes has written since 2007's Hissing Fauna, Are You the Destroyer?", considered one of the band's best albums. It's useless attempting to singularly describe the direction of a Kevin Barnes release, but Polyvinyl does a commendable job of mixing and matching: "Paralytic Stalks at times resembles modern classical with its intricate compositions, while at others echoes of neo-prog, pseudo-country, and 60s pop can be heard." Their previous two albums, Skeletal Lamping and False Priest, had a mixed response, though I personally loved the latter.
"Wintered Debts" was the first song to appear off Paralytic Stalks, when it was made available for download in November. Enjoyably schizophrenic, it proved to be a great lead-up to the album, which by all accounts sounds enthralling. Expect a review shortly.
And some previous favorites:

MP3: of Montreal – Famine Affair

MP3: of Montreal – Gronlandic Edit