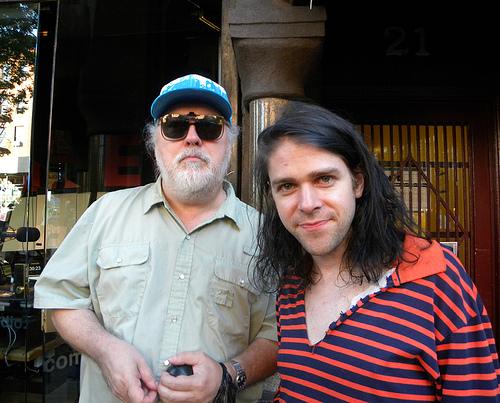 MP3: Ariel Pink + R. Stevie Moore – SteviePink Javascript
Ariel Pink plays like the successor to R. Stevie Moore's ingenious form of lo-fi DIY pop, so it's pretty cool they get along so well. They have collaborated on material in the past, as well as appearing at shows together. I saw Ariel Pink twice last year, once as the main act and another as the opener for Os Mutantes. At the former, Moore surprisingly came out and initiated a grandiose introduction with his tambourine and some backing brass. He played the Michael Buffer role initially, but later lent his musical chops on stage. So to hear they collaborated on a full-length album isn't a surprise, nor is the fact they named it something like Ku Klux Glam. They're both huge influences on contemporary pop anyway. Despite being only 33, Ariel Pink is still revered by the likes of Girls' Christopher Owens and others as being a hugely prominent influence.
The album's first single is a "six-minute space droner" that sounds like the child of Pink's The Doldrums and Moore's Swing and a Miss. It's called "SteviePink Javascript" and sounds just as bizarre as you'd expect. The wispy synth pad backing, high-pitched Ariel vocal attachment, and mouth box-like drums were best employed on The Doldrums, and the sound of "SteviePink Javascript" hearkens back to that. Finally. The drug-induced conversational flow is reminiscent of several efforts on Swing and a Miss, though Moore's musical influence is more evident on psych-pop charmers like "Come My Way", another outstanding track on Ku Klux Glam. It's particularly amusing how Ariel shifts from his high-pitched reverb croon to his plain speaking voice, a stark contrast that makes Moore's endearing remarks even more appealing. The dialogue seems to poke fun at the competitiveness and chemistry among collaborating musicians, even if they're dabbling in the best drugs you could find
There are tons of throwaways on Ku Klux Glam, as you would expect from a 35-track release, but there's also plenty of golden nuggets to dig out — particularly this track, "No Zipper", "Come My Way", and "Dutch Me". Most other tracks sound like a teenager testing to see if his guitar works on a preamp, but that's hardly a concern when the high points are as high as these.
This won't be the last you'll hear from Ariel Pink in 2012. He's recording a follow-up to Haunted Graffiti's Before Today. It's tentatively called A Death in Hollywood and, according to Pink, is "[loosely] based on a childhood movie that I made with my cousins, basically a combination of Ghost and [The Adventures of] Ford Fairlane. It's like a rock-and-roll detective story. There's a rock star who dies onstage and his brother wants to get to the bottom of the caper." Sounds fun.