Posted
February 15, 2012 by Mike Mineo
in Tracks
MP3: The Cribs – "Chi-Town"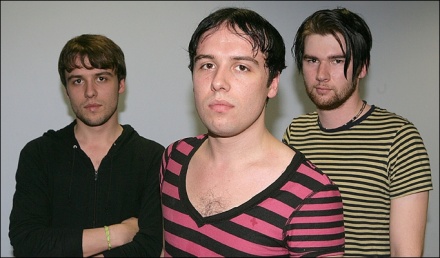 MP3: The Cribs – Chi-Town
English rock trio The Cribs announced details of their fifth album, In the Belly of the Brazen Bull, as well as an MP3 from the release. Keeping true to the band's sound, "Chi-Town" mixes DIY punk with British alternative. Its title presumably comes from the location of engineer Steve Albini's studio: Chicago.
In the Belly of the Brazen Bull was recorded in three different locations: Dave Fridmann's Tarbox Road Studio in Cassadaga (NY), Albini's Electrical Audio studio in Chicago, and a few self-produced sessions at London's Abbey Road. It marks the return of The Cribs as a trio, who on 2009's Ignore The Ignorant enlisted former Smiths (+ Electronic and Modest Mouse guitarist) Johnny Marr, who left the band in August 2010.
My favorite Cribs songs is "I've Tried Everything", a longing rock ballad from Men's Needs, Women's Needs, Whatever. It's really great. Listen:

MP3: The Cribs – I've Tried Everything
Hard to imagine we reviewed it almost five years ago.
In the Belly of the Brazen Bull track listing:
1. Glitters Like Gold
2. Come On, Be A No-One
3. Jaded Youth
4. Anna
5. Confident Men
6. Uptight
7. Chi-Town
8. Pure O
9. Back To The Bolthole
10. I Should Have Helped
11. Stalagmites
12. Like A Gift Giver
13. Butterflies
14. Arena Rock Encore With Full Cast
Upcoming Shows:
April 3 || Holocene || Portland, OR
April 4 || Crocodile Café || Seattle, WA
April 7 || 7th Street Entry || Minneapolis, MN
April 9 || Schubas || Chicago, IL
April 10 || The Pike Room || Pontiac, MI
April 11 || Lee's Palace || Toronto, ON
April 13 || Music Hall of Williamsburg || Brooklyn, NY
April 14 || Brighton Music Hall || Boston, MA