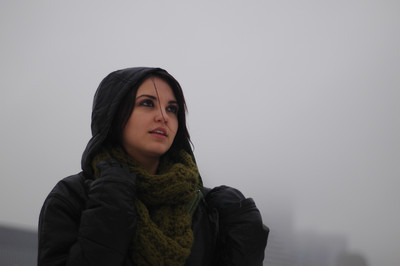 Minneapolis-based Vague-à-bonde reminds me of a submission I got two years ago from Grimes, who is finally getting widespread recognition with her new album Visions.
I expect producer/songwriter Nicole Alicia of Vague-à-bonde to follow a similar path. I wouldn't be surprised if she releases a few excellent EPs, builds a small following, and eventually breaks out with an album on a relatively big label. She has the sort of ability to make easy predictions, similarly to Claire Boucher and Grimes.
Although Vague-à-bonde has a twinkling yet dark electronic-pop-in-a-bedroom quality that bears a resemblance to Grimes, Nicole Alicia is certainly more of a pop-driven songwriter. Her songs are less dependent on atmosphere and more so on hooks, which are an infectious hybrid of bubblegum electro-pop and riveting indie-pop, where names like Metric and Mates of State are more accurate. The expressive electro-pop of Erasure also isn't too far off.
On another note, despite the French name, Vague-à-bonde sounds like a fusion of the electronic-pop scenes in Sweden and South Korea.
She has three songs available on her Soundcloud, the most impressive being "Voices". Halted vocal samples run quickly under an arrangement of keys and violin swipes, with the track's airy and serene qualities shining brightly. I was glad to see Nicole Alicia reference Korean pop as an influence, and this track is certainly most representative of that with the quirky vocal sampling and ceaseless twinkle. "It's beat-driven bedroom pop. It's basically Fleetwood Mac meets K-pop," she said.