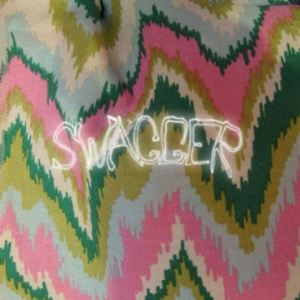 If you're in a rush and only have time for one sing, check out "Take You There" here. But really, check out the entire album below when you get a chance. It's highly recommended:
Swagger is a genius album that has gone severely overlooked. I hadn't heard of it until a friend recommended it the other day, so thanks to Akis for introducing me to this gem. Nashville-based Bill Rowe is Fly Golden Eagle, and he turns multiple aspects of classic-rock and soul into his own bizarre direction, eager to explore but reluctant to sink too deep in indulgence. Dr. Dog and Bryan Scary, with their tasteful and creative interpretations of thematically inclined classic-rock, are two apt comparisons — though the content-heavy Swagger touts a sound entirely its own.
The infectious "Take You There" is a wonderful meshing of synth-infused funk with a Brit-pop twist, eventually traveling to ambitious psych-rock territory. The initial melody falls somewhere along the electro-funk leanings of Hail Social, Erasure, and Scissor Sisters, being just one example of Rowe's ability to remain hook-minded while extracting nuggets from the past. Once the song kicks into full gear, plenty of wah-wah pedals and prog/psych guitar fixes come into the fold. It's a damn stunning track, plain and simple.
Other highlights include "Psyche's Dagger", a synth-tinged burst of art-rock energy, and the soulfully trickling ballad "Violet Crown". Every single track on Swagger has its sticking point though, and a full listen is strongly advised. Enjoy.