Posted
March 20, 2012 by Mike Mineo
in Tracks
MP3: Deep Sea Diver – "Ships"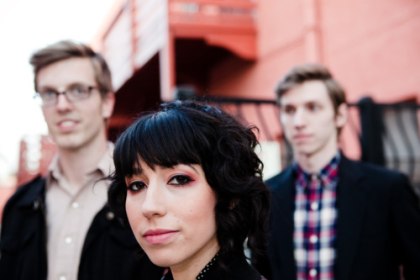 MP3: Deep Sea Diver – Ships
"Ships" is the first track off Deep Sea Diver's full-length debut History Speaks. The trio is fronted by guitarist Jessica Dobson, lead guitarist of The Shins and past collaborator with the likes of Beck and the Yeah Yeah Yeahs. The album shows a highly polished mixture of punchy indie-rock anthems and adventurous forays into art-rock and punk. The tight "Ships" is one the more direct rock efforts, featuring muted guitar strums that come to life with the cinematic use of percussion. Dobson's voice is raw and up-front, without the reverb or flanging some singers feel compelled to use. "Slow, slow to a crawl," she sings during the titillating bridge, an excellent guide to the fluid chorus. It's an exciting opener to an album full of successful curiosities.
From the fuzzy bass stomps of "You Go Running" to the lush orchestral swell of "Tracks of the Green Line", no track on History Speaks sounds like another. The trio has done an exceptional job of pushing their experience to the limit, touching on all their specialties from high-throttle, hook-laden rock to emotive ballads — with some tracks, like the self-titled cut, serving as an adventurous foray to the in-between. Drummer Peter Mansen and bassist John Raines are excellent complements to Dobson's fluid guitar playing. Mansen is her husband, after all, so they probably have plenty of practice.
History Speaks features guitar work from Sean Walker (the Delta Spirit) and percussion from former Tom Waits drummer Stephen Hodges. It was recorded in Long Beach with Matt Wignall (Cold War Kids, the Delta Spirit), mixed in Seattle by the band's close friend Luke Vander Pol, and mastered in New York by Paul Gold (Grizzly Bear, Dirty Projectors). You could see by every name in parentheses that experience is no problem for anyone in Deep Sea Diver, and their music is more than demonstrative of this.