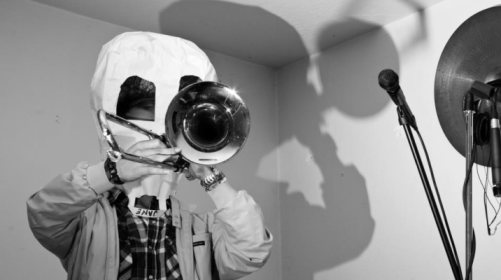 MP3: Que? Zoo and Dr. Skull – Poem
MP3: Que? Zoo and Dr. Skull – James Brown
MP3: Que? Zoo and Dr. Skull – Pterodactyl Takes Phlight
Que? Zoo and Dr. Skull is the alias for Philly-based Brandon Seawell, who recorded the six songs on Days At the Zoo in his bedroom "with two microphones, a mixer from the Back to the Future era, and my laptop." Although he counts Sufjan Stevens as a leading influence, there's an eloquent bleakness inherent in Seawell's sound, more similar to Antony and the Johnsons or Wild Beasts. Seawell's voice, which sounds like a quivering murmur slowly suffocating, is one reason. And although his vocals are certainly a contributing factor, the understated beauty of his compositions is the main reason his music is so striking.
The acoustics-and-key pairing of opener "Poem" is similar to Grizzly Bear's ghostly presentation, and here Seawell projects a high-pitched hybrid of glee and somberness; his voice sounds like a cross between Jamie Stewart (Xiu Xiu), Ed Droste (Grizzly Bear), and Hayden Thope (Wild Beasts). The minimal percussion allows the keys and unconventional string noises to converge beautifully toward the end, very much like early Xiu Xiu material. "James Brown" is another highlight, a delicate track with heavy reliance on theatrical vocals and a gentle rhythmic push reminiscent of Wild Beasts tracks like "Deeper". The jingling of bells adds a nice exotic touch, as well, help solidifying the brooding yet beautiful sound of Que? Zoo and Dr. Skull. Closer "Pterodactyl takes Phlight" has the soothing piano-pop of an Air track, with some jazzy flairs and hip-hop percussion. It's a really fascinating track, and one that sums up Seawell's avant-garde leanings nicely.
Creativity is something that Seawell values significantly, but not to the point of it sacrificing a song's listening appeal. "I try to make music that's fun. I like twists and turns and unexpected lines in my music." he said. "There may or may not be anything new under this sun of ours, but I think the strife to create something that is such is a worthwhile enterprise." The songs on Days At the Zoo make it easy to see why.