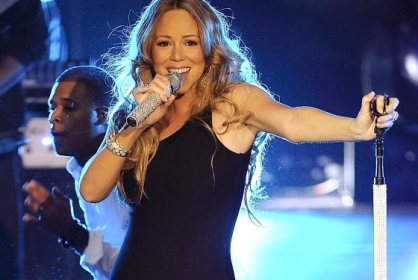 As some of you noticed last week, I teamed up with Caesars Entertainment's Escape to Total Rewards program to give away three tickets to Thursday's show, which featured Mariah Carey and Diddy. In Mariah Carey's first live performance since delivering twins in April, she delivered a tour-de-force performance that – judging by her voice and energy – would make you think she never left at all. Openers Celine Dion (streaming from Vegas) and Diddy were good fun, especially as the latter tore through his Bad Boy collection and a B.I.G. tribute, but Mariah stole the show as expected. She looked as glamorous as the setting, NYC's Gotham Hall – their Grand Ballroom to be exact, which resembled a cross between Cinderella's ballroom and a grandiose cathedral. It was the most glamorous music venue I've ever been to, along with some of the most striking performances.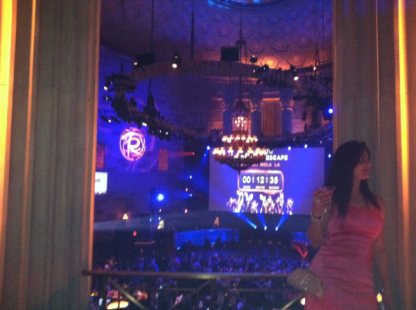 Opening with "It's Like That", a fan favorite from The Emancipation of Mimi, showed what to expect from Mariah's show; her high-scaling vocals were set seamlessly over a backdrop of lighting spectacles and athletic background dancers. Her banter throughout the night was casual and organic, referring to "Dem Babies" Moroccan and Monroe more than a few times, along with the show of praise to fans who supported her through a variety of life-changing events – from the kids' births, to the hospitalization (+ recovery) of her husband Nick Cannon. By the time she closed with "We Belong Together" and "Hero", the intimate setting made the line between diva and acquaintance a lot more indecipherable.
Prior to and after Mariah's performance, host Scary Spice showed the audience clips from Total Rewards' other three shows, which were happening simultaneously. Cee Lo and Lil' Wayne took over LA, Maroon 5 and Sara Bareilles excited Chicago, and New Orleans was treated to Mary J. Blige and Gavin DeGraw. It seems people were excited most by Mariah, though, and for good reason. It was definitely a privilege on Thursday night to attend Plot Your Escape… I wasn't the most informed on any of the headliners, but seeing the grandiose quality of these shows makes me realize why they sell out stadiums, if it wasn't clear enough on their greatest hits.

By now you may be wondering, what the hell is Total Rewards? I wouldn't get involved if I didn't think it was interesting. It's a rewards program that has 100+ grand prizes and 80,000+ other Total Prizes. Join the loyalty program for free, and then play the game that just launched. They gave me and three other readers tickets for this show, so it's obvious the sort of rewards they can give you – whether it's a VIP getaway or another unique experience.
They're already hooking us up with a code that will allow more free play's on the game. Just enter it in: 3RHK4G
I'll be keeping you informed on other opportunities in the coming months. I am honored to be an Influencer for the Total Rewards brand. Material and/or financial incentives may be received as a result of my involvement, like the opportunity to attend this great show, but they'll never get in the way of site's authentic content.
Photo 1 credit: Michael Loccisano/Getty Images

Mariah Carey – Always Be My Baby

Mariah Carey – Honey (Bad Boy Remix)