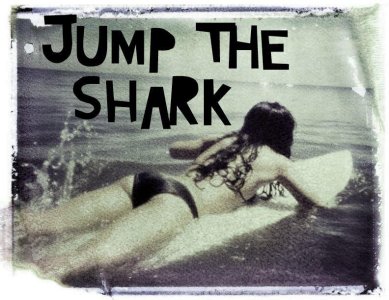 MP3: Jump the Shark – Under the Gun
Jump the Shark craft slick, high-energy garage-rock with smatterings of classic-rock and blues, like if The Black Keys collided with raunchier summoners of nostalgia like The Dandy Warhols and Brian Jonestown Massacre. This Indianapolis-based trio possess a similar bevy of roaring guitar solos, sultry vocal whimpers, and anthemic percussive build-ups, paying homage to contemporary influences like The Black Keys and Kings of Leon as well as veteran troubadours like Zeppelin. "Under the Gun" is a blast of confident energy, tackling infectious blues like Supergrass did on "When I Needed You", though Jump the Shark shows more emphasis on guitars — and proudly so. You can picture these guys jamming out in a garage, their feedback running rampant across the neighborhood. Jump the Shark are one of those good ol', no-bullshit garage-rock groups… something we could use more of.
Check out more of Jump the Shark's songs on their Soundcloud.