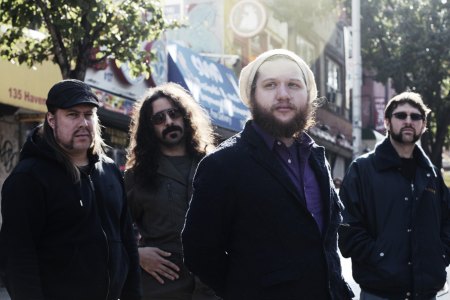 MP3: New Beard – Doom
Recorded in a Brooklyn cellar, New Beard's debut LP New Beard City is a stunning work touching on everything from metal and prog-rock to worldly folk. Few handle stylistically eclectic sounds as well as the album's producer, Dungen's Gustav Ejstes. His project floors us every couple years with dizzying displays of virtuoso prog-rock tendencies and stylistic mish-mashes, and New Beard City certainly follows that tradition.
While Dungen and New Beard share ambitious scopes, New Beard's tendencies veer more toward psych-pop; their songs are gentler and more instrumentally eclectic, courtesy of members like prodigious electric-tuba player Joe Exley, guitar wiz Yazan, and ferociously hyper drummer Tony Waldman (who sings us some Japanese on closer "Lord of Japan"). Exley actually assumes the role of bassist on occasion; his electric-tuba emulates the instrument, notably on "Given". Vocalist Ben Wigler has a high tenor with the flexibility of Kevin Barnes and the rhythmic harmonizing of Andrew Bird. His voice shines most prominently on "Given", a dripping psych-rocker where his transitioning between soft-spoken verses and an outwardly melancholic bridge and chorus sends chills up my spine. I'm also in love with the strings/keys collaboration during the outro, eventually aided by metal-inspired guitar riffs.
On the more pop-leaning spectrum, the colorful, woodwind-accompanied grandiosity of "My People are Around" resembles both a medieval fair and Super Furry Animals' most upbeat efforts ("She's Got Spies"). "Doom", in particular, is driven by strings akin to more conventional Swedish pop (AKA, not the sort Ejstes usually deals with). "You won't stand still, so why should the world?" Wigler asks. "Well, I won't be standing in your way." My favorite bit is just before the two-minute mark, when crunchy metal-inspired pop melody glides over the initial string melody, followed by Wigler repeating the chorus' question.
There's a number of exceptional tracks on New Beard City. Honestly, there are a handful I enjoy even more than "Doom", which is great in its own right. Look for New Beard City to be revered as one of the year's best debuts. It's out June 26th on Shoulder Tap Records (Wigmaker's Son).