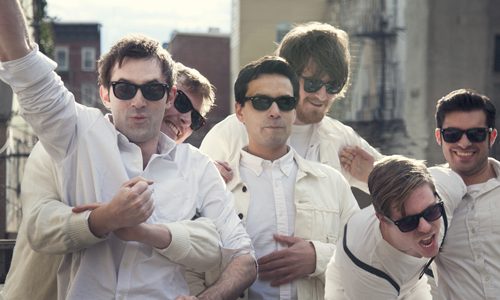 Los Encantados are a rising Brooklyn-based six-piece with a knack for throwback, summer-friendly rockers. They incorporate their love of surf-rock and throwback pop like Jonathan Richman or Little Joy, who recall the style's chirpiest and most accessibly recognizable aspects without appearing overly sentimental or dependent on the era. Alas, Los Encantados do not abandon the suave NYC indie-rock sound of The Strokes or The Virgins. With a breezy, nonchalant, hook-filled sound, I' be surprised if they didn't reach similar initial "buzzband" status.
It's a cliché to say you're all about summer and love, man, but this is a band actually capable of making that love audible, like how Air France or The Beach Boys captured the sounds of a carefree summer (though with differing presentations and perspectives). Los Encantados' new album, The Same Damned Soul, is a true story that took place over the summer of 2010 in France and New York. Most of it was written "on the F train to Coney Island and on the C train to Rockaway during the summer of 2011." Oh, and if you're itching to know where it was recorded, it was in Bushwick, "until the building that housed the Encantado recording studio was condemned."
If you're in NYC, check out the band at the Cake Shop or Bell House; they have a few shows coming up at both.