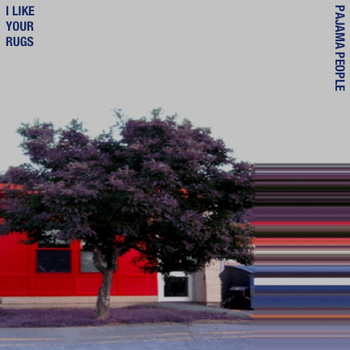 MP3: Pajama People – They Keep Saying
Nostalgia bites when you come across the right intersection of lyric, harmony, and melody. Pajama People's mixture of bedroom-pop and dream-pop yields that heart/brain conjunction, where tears and past memories go hand in hand. I Like Your Rugs, the band's first EP, blends recollections of the past with a look at the present.
"Hand Me Down" is about feeling used and taken advantage of. The song divides the listener's attention between two concurrent stories; one story heartens the listener with the buoyant instrumentation while the lyrics reveal a distressing second story. Will Lakritz's sincere lyrics indicate a perpetual problem with "no way out," but the music combines upbeat semi-surf rock vibes with innocent sounding mini piano lines tricking the listener into feeling cheerful. Though the message isn't uplifting, "Hand Me Down" is the EP's most poppy track.
I Like Your Rugs makes listeners "Human", which is a thought-provoking track about a hopeless relationship. The use of descending arpeggios, reversed vocals, and provoking drumhits exposes the listener to the dysfunction between a man and his cold-hearted lover. A wall of sound develops around Gordon repeating "He's not a forest and you're not made of fire. He's just in love and you're only a liar," signifying that this man's heart is being trampled on by the object of his affections. "Human" sadly depicts how finding love can be a journey through cold and uninviting territory.
Emotions run rampant as "Getaway" departs on its voyage to self-awareness. It's the album's most compelling track. The veracious lyrics produce a sentiment of being trapped while the driving pulse highlights each failed attempt at escaping. Hysteria and sadness come in droves as each verse leads the listener up and down an increasingly dynamic path which eventually climax into heart throbbing explosions of layered instruments and echoing vocals.
Pajama People arranged I Like Your Rugs as a look back at their past struggles and stunted relationships, but give the listener light at the end of their turmoil-induced tunnel with "Secret Handshake". This track reminds the listener of the beauty and joy one feels when encountering an awakening. The track's uplifting lyrics, playful harmonies, and mind-opening reversed snare hits fill our sorrowed souls with hope. Life as we know it has been soothed for the moment. Pajama People have mastered how to portray deep emotional issues through personal lyrics, and powerful instrumentation, but somehow still give off a childlike impression. The fact that they named this EP I Like Your Rugs shows that they can be serious whilst presenting themselves as a down to earth, bedroom pop group.