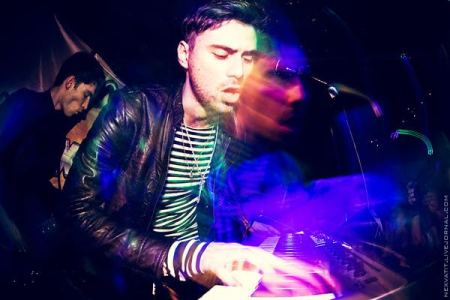 MP3: Tesla Boy – Fantasy
Oh Tesla Boy, how I have awaited your return. Your synth-pop brings us back to the early days of OMD, Erasure, and Depeche Mode, where chirpy synth leads and punchy rhythmic backbones reigned supreme in electro-pop. Chromatics' new album touches on the sound brilliantly as well, but with a more guitar-heavy cinematic feel. Tesla Boy produce straight-to-the-point pop with bustling and organic rhythmic accompaniment; at times they sound as if Cut Copy didn't have a guitarist. They trace back to a time when genres weren't defined by superfluous production gimmicks. Nostalgic bliss, as they meant it.
The Russian group received an overwhelming reception from listeners when I featured them over three years ago, so their new single "Fantasy" should be of great interest to many. While the initial synths provide a glossy feel akin to Ryuichi Sakamoto's Merry Christmas Mr. Lawrence OST, it immediately embraces a harder-hitting polish with heavy snares and moog-y bass. The chorus is highlighted by a quicker synth arpeggio and a call-and-response vocal pattern, along with excitable bursts of vocalized glee.
"Fantasy", released today, is the first single off their upcoming new album, Modern Thrills, out May 31st. "This song is about hidden desires, thoughts and fantasies, which people think improper or indecent to reveal," singer and keyboardist Anton Sevidov told Spinner. "Everybody has such erotic fantasies and dreams — you might be staring at a girl and imagining how she would look with her clothes off during love-making, but that is all you can afford, because, say, she is your best friend's girlfriend, or your teacher, or physician."
To get a feel of their similarly sounding early material, check out the superb "Spirit of the Night".