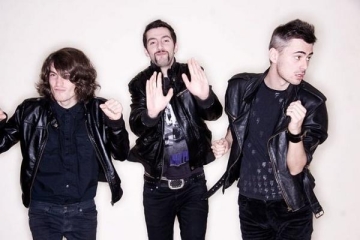 When synth-pop was first glorified in the late '70s, it was a musical breakthrough in a more than one way. Its introductory development was more dramatic than most of its stylistic predecessors, as an entirely new emphasis on certain instrumentation and methods of production arose when technology began to integrate itself into the typical structure of a band. Decades have always come to represent specific styles of music, and while the transition from the British invasion to experimentation within psychedelia and rock in the '60s and '70s had an undeniable impact, there was little major alteration in the instrumentation used and the general presentation of a "quality" song. Synth-pop's introduction was quite an interesting development in the music world, as the style seemed to borrow fashionable elements from glam and pop music while relying heavily on a synthesized sound that was previously withheld from most listeners that used conventional radio to satiate their musical needs. The songs were hardly complex, and often more simplistic than the experimentalism in the '70s, but it hardly mattered. As one could tell by looking at most aspects of pop culture in the '80s, style reigned in this decade. In present time, what remains interesting about this period is its effect on contemporary music and the new styles that have originated from it.
Now that sampling, vocal alteration, and most elements of electronic music are accessible to most of those with a computer, many with a talent for songwriting have at least attempted to incorporate similar aspects into their sound. The challenge here, though, is striving to sound innovative without being too caught up in the past (which almost always results in a detrimental cliché). Some groups like Cut Copy have incorporated elements of modernistic indie-rock into a sparkling array of synths, while others like M83 have chosen to evoke pure nostalgia with their blissful interpretations of synth-charged '80s romance. Choosing this method of electronic implementation is extraordinarily influential on an artist's success, as there is rarely a line in this practice between immense stylistic success and embarrassing imitations. This great divide was not prevalent when synth-pop first emerged, but now that the genre has been heavily utilized there are fewer ideas that listeners have not heard. With this in mind, when I come across a contemporary electronic artist that does not stray too far from the basics of the style's instrumental and structural approach, I tend to magnify some things. When a style that has been prominent for several decades is being used by an artist, their songwriting now becomes the most vital element of their potential success.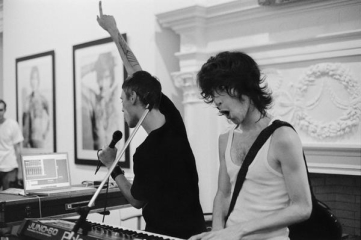 Unlike artists like LCD Soundsystem, Cut Copy, and Chromeo that blend elements of contemporary indie-rock or hip-hop over tinges of '80s synth-pop goodness, Tesla Boy are straightforward throwbacks that have already proven their ability in being one of the only current acts that can sound directly out of the '80s with no modernistic touches or technological advances. They successfully create pure synth-pop that reaps from an endless stream of hooks and monumental build-ups. On their debuting and self-titled EP, the Russian trio crafts an ingenious mixture of interwoven Eurodisco synth lines, glittering keys, and a ceaselessly active rhythm section. These are all complemented by Anton Sevidov, whose vocals encompass the stylishly European demeanor of synth-pop's heyday. The trio is somehow able to come across as a fusion of Depeche Mode, Erasure, and Pet Shop Boys without sounding like they borrowed any primary ideas at all. Considering their style is undoubtedly within the same realm, most of this can be traced to Tesla Boy's stellar songwriting and sharp production. "Spirit of the Night" should be a surefire hit with its energetic display of alternating arpeggios and twinkling keys, led by an irresistible chorus that finds Sevidov's vocals and a newly accompanying synth line crafting an ingeniously gripping moment that can serve to epitomize the trio's potential and ability to craft hooks.
Ah yes, the hooks. Where would synth-pop be without them? It is clearly an aspect that Tesla Boy value considerably, as is shown on the five tracks on the Tesla Boy EP. "Spirit of the Night" shows their chops well with its integration of synths that stretch from both sides of the range spectrum, concluded by an elegant synth progression that is perfectly backed by a bustling plethora of alternating chords that align appropriately to each melodic transition. Another single-worthy effort, "Electric Lady", contains as much energy as the Hendrix album it took its name from. Compared to the somewhat developmental nature of "Spirit of the Night", "Electric Lady" takes no time in propelling Tesla Boy to the pinnacle of synth-pop and dance, with the latter reigning quite supremely here. A series of quickly paced high-pitched keys establish the basic melody like most of Tesla Boy's songs, but the subtle additions within an already contagious melody makes this and "Spirit of the Night" supremely infectious efforts. If released in the '80s, success would be imminent. As for now though, this trio has enough songwriting chops to reach a degree of success that should have all fans of electronic pop excited and familiar with the Russian trio whose apparent time machine has helped them create some of the most exciting electronic music of the year thus far.
——————————————————————————————
Tesla Boy – Spirit of the Night

[audio:http://mineorecords.com/mp3/tboy-spi.mp3]
——————————————————————————————
——————————————————————————————
——————————————————————————————