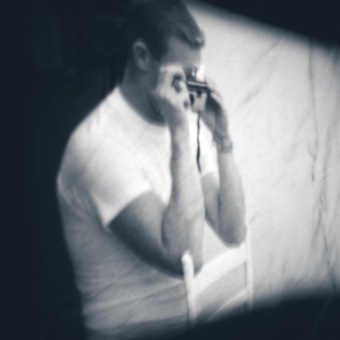 The songs of Chicago-based Zelienople are haunting and free-flowing, their cinematic soundscapes being very developmental through the use of field recordings, free-form percussion, and unconventional structural twists. Their approach has been referred to as "doom-pop", with its haunting and spacious interpretation of Americana. The trio of Mike Weis (percussion), Matt Christensen (vocals, guitar), and Brian Harding (bass, saxophone) have already amassed a dedicated following that looks to grow with the release of their new album, The World Is A House On Fire. Stream it in its entirety here or above.
Christensen's voice echoes like a monk's in a sanctuary, with occasional monophonic spurts rendered strong by his resonating voice; on the initial sparseness of "Chemist" it approaches the intimacy of Gregorian chants. Its scattering of natural percussion makes "Island Machine" sound more vibrant. The melancholic and sonorous vocals brush gently up against the mix, reminiscent of Talk Talk's later work. Comparisons to Mark Hollis and co. seem common on other write-ups, but "Island Machine" is really the only example of a striking similarity. I find Zelienople's work more similar to Scott Walker's later career and Dirty Beaches' Badlands.
Closer "Out of It" emits a hazy twang, with the sounds of birds chirping and sporadic rattling placing the listener in wilderness' epicenter. On this effort the construction of such a unique atmosphere guides Christensen's voice, compared to "The Real Devil" where an ominous bass line and percussive shuffle lead the way. You'd get the image of a jazz club in purgatory for this one, though it's driven more by melody and shimmering spurts of guitar as opposed to atmosphere. The band's best exhibit of structural genius is "Colored", which evolves from abrasive distortion into an enchanting guitar lead, and then into a slightly chaotic whirring of sounds that eventually grow into "Old Dirt", an interlude of the Scott Walker caliber that sets up for the intense "Out of It".
The World Is A House On Fire is definitely a recommended listen.