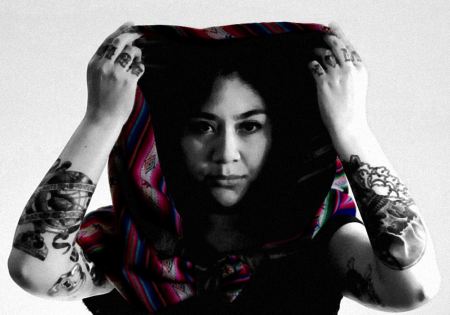 Your sound is filled with diverse instrumentation and melodies. Any homemade or unconventional instruments you found particularly interesting?
I recorded "Talátur" and Turi (the album) with the instruments I found in markets and at home. Non-professional drums, and some handcrafted typical instruments as well. I had this vintage organ at home, a Yamaha keyboard (church style with 3 keyboards) that had this awesome bank of sounds and some amazing bass sounds to make some noise. But specifically for "Talátur" I used a lot: a kids classic guitar I bought for US$50 in a small store in La Serena, and my kid's drum set I bought in a store in Santiago before moving to La Serena. My slides guitars are usually made of pencils and glasses or other plane spheres I find where I am. I really like slide guitars. That song has no bass line, as I didn't have a bass amplifier at that time, so I made some lines with the same kid's guitars. What I'm trying to say is you don't need to invest much money on it, but effort and good ideas is what really counts and you can get interesting and unconventional sounds wherever you go — from a plant, a glass, a kitchen pan, a chair, or simply a wall. And it is how you will use it that will give the song a purpose.
How did you meet talented producers like Nathan Larson and Tom Biller? Their work is no stranger to Obscure Sound.
I feel blessed, because since I started making music people showed up writing mails and private messages via MySpace or other pages to say they like my stuff, make collaborations, and things like that. In the time of MySpace I had contact with Nathan Larson; he liked my stuff and then I asked him to give the song some particular sound. I've always loved his composing role in soundtracks and also really like his project with his wife Nina Persson, "A Camp". After Nathan finished the song I decided that someone else should give the final mixing and balance everything so I contacted Tom Biller, because he's recently produced Warpaint's album The Fool and has been really collaborative with Jon Brion for some music for soundtracks. He listened to my music I had on MySpace and liked the songs too. I've been lucky as they both accepted to work with me.
You dedicated Turi to the Atacameños (Likan-Antay) culture. I learned many Atacameño people still live in Chile today. What is your relationship with their culture?
I don't have a close relationship with this ancient tribe but I was born in Antofagasta, a city in northern Chile and I've always felt connected to this kind of landscapes and this culture has been living in this region of the country, specially in small towns near San Pedro de Atacama, so I learned some things about them and decided I should make like a tribute to them; you can feel totally isolated and sad living in the driest spot of the world and that interpretation of what would it be like living there in a period of time with no globalization and instant communication gear like nowadays is what my songs are about.
You recorded "Talátur" in somewhat minimal fashion, entirely in your home studio with one microphone. Do you prefer this recording atmosphere to that of a larger studio? And were musical ambitions prevalent in your childhood, or did it come on more recently?
I've always like concept of developing ideas, since I was a kid. Everything just clicks and starts in your brain, and after that you will figure out how to make your ideas a reality. It feels like making a puzzle and it's fun.
I started playing piano at the age of 5 and then learned some other instruments as a teenager. When I was 14 I was given a Tascam Portastudio and that helped me to develop everything by myself on each track and I love that kind of procedure, so I would say I've kept the same technique with different gears. When I started recording Turi I didn't have money; I was living at my parent's house with no job at that moment, so I had to record everything with things that I found on the way. On the other hand, the money of my previous work helped me to buy a computer, an interface and one mic, so I would say it was not a matter of liking but a matter of budget. Anyway, it worked and the results are super OK with me. I will always enjoy feeling comfortable, whether it is in a professional studio recording or at home.
You've written music while living in several places throughout the world, from Chile to Rome. Is there any specific country, or city, that you feel brings out your artistic abilities the most?
When I was living in Rome I felt that something was missing in my life, but it was also when I felt I was creative the most. In that period of time the structures of my songs started being more dynamic in a way, and more complex too. I started listening a lot of new stuff that helped me and influenced me, but I definitely feel connected with Chile so I decided to return and start all over again from zero. I forgot, so to speak, about what I was previously doing, so it was time to reinvent, and start thinking about how to create a totally different sound and atmosphere and link that to my background and memories.
You've said in the past that your work was more typical of dream-pop early on. Since then it has expanded in several ways. Is there any particular aspect of musical growth you're proudest of?
This one, the Turi album, is my favorite so far. At this stage I feel like I've found where I really want to be, musically speaking. I don't know which will be my sound in the future, but by now I feel pretty comfortable with the music arrangements and structures of the new tracks.
What's on the near horizon for Tigermilk?
I don't really know… what will come will come.