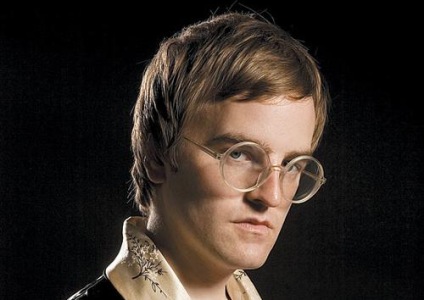 MP3: Dent May – "Home Groan"
Formerly known for his ukulele-driven pop, Dent May's recent foray into the funk/disco electro-pop sphere has brought positive results so far. Our first glimpse at his new album Do Things came via "Best Friend", an infectious gem that made this stylistic transition apparent. That track had shades of Kevin Barnes' love for funk-infused bass lines, as well as a touch of Brit-pop (the clever types like Squeeze and Pulp). Certain vocal twists, like May's panting during the chorus, recalls Jarvis Cocker, and how his vocals help drive a deep funk rhythm like on "F.E.E.L.I.N.G. C.A.L.L.E.D. L.O.V.E".
Do Things is out tomorrow, and you can stream it in full at Spin, so now we get a peek at some other album tracks. "Don't Wait Too Lings" mixes dirty funk and '80s electro-pop, while the bouncy "Tell Her" recalls Todd Rundgren (the lead guitar twang is incredibly reminiscent of "I Saw the Light") and The Beach Boys, specifically the latter's Love You album where Brian Wilson frequently applied Moog bass lines with funk characteristics over swaying pop melodies led by keys and guitars. My favorite is opener "Rent Money". It touts a suavely infectious chorus with the sort of lead-in you'd expect from Jarvis Cocker. The phased guitar during the post-chorus bridge is also a nice touch.
The other track released prior to the album, "Home Groan", begins at a hazy psych-rock pace before transitioning to a wimpering surf-pop tribute to The Beach Boys. Think "All I Wanna Do" crossed with one of their reunion efforts from the '80s on. It's a good one, but there are several better efforts on Do Things.