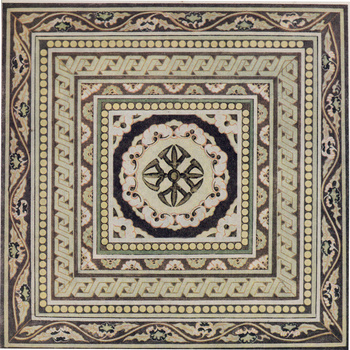 MP3: Horrid Red  – "Joy Inside"
Kraut-rock revivalists Teenage Panzerkorps were received very positively when I posted about them over a year ago. Most of its members return in Horrid Red, a TP side project and one that treads more in the electronica spectrum. Many of the tracks on their new EP, Banquet in Blue, are more lush and diverse than Teenage Panzerkorps, whose exciting infusion of punk and post-rock influences reminds of Savage Republic, The Ex, and others labeled as "Tribal-Industrial-Art-Punk" by veteran critics fond of dash-savvy sub-genres.
The most idiosyncratic element of Teenage Panzerkorps has always been the prominent vocals of Karsten (Bunker Wolf), involved in the punk scene since the '80s. He's no stranger to spoken word and sudden shifts in tone, and is probably fond of delivery standouts like Mark E. Smith, Damo Suzuki, and Scott Walker. Karsten's explanation for his approach relies on what sounds most fitting for the style. "It's not straight punk-rock, but kinda progressive art-punk," he said in an interview with Razorcake. "[It] is perfect for some Teutonic singing."
While listeners can expect much of the same Karsten on the swift post-punk of "Unknown Treaties" and muddy '90s alt-rock homage "40 Thousand Sleeps", practically half the EP is instrumental. The elegantly scratchy "On Glass", horror film vignette "Joy Inside", and bubbly synth-pad glower "A Toast (To All of You)" all are extremely strong and original on their own, even without Karsten's presence. "Joy Inside", has an eerie melody that sounds fit for a horror film, led by stark keys and an ominous synth pad that reflects off a booming bass. Melodic percussion in the final two minutes helps provide variation, but the near five-minute length is meant to establish atmosphere in the midst of Banquet in Blue more than anything.
Here's a highlight, "Nothing in My Heart", off their Celestial Joy LP, released in February:
Download the EP for $5 at their Bandcamp. And obviously check out one of Karsten's many side projects if you dig this sort of thing.