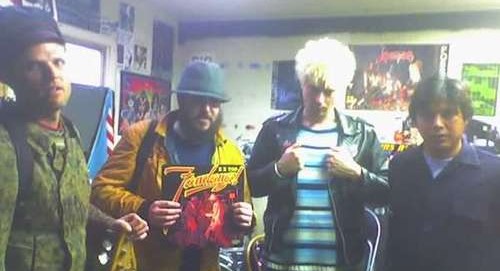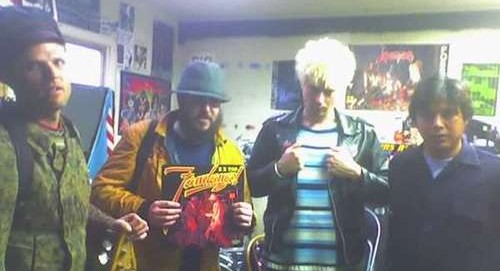 Teenage Panzerkorps are more than revivalists in the songwriting sense. Their sounds recall the kraut-rock of Can and Neu! with a cutting-edge lo-fi allure, vast and tributary enough to appear like a fusion of albums one obtained through trading cassette tapes in the '80s. If you were a punk enthusiast born in the late '60s/early '70s, you were of age during this period to know the types of artists that made these rounds; they are revered by most punk revivalists today, but lack any name recognition whatsoever. Thus, the most succinct comparison to Teenage Panzerkorps is the art-punk of Savage Republic, an underrated group from Los Angeles' '80s punk scene that were semi-humorously categorized as "Tribal-Industrial-Art-Punk". Despite having aged better than many of the artists they mimicked, Savage Republic's work was generally dismissed as a circle-jerk of present influences at the time. The four-genres-in-one name is surprisingly suitable as a result, just as it would be for Teenage Panzerkorps. The retrospective approach is indebted to their unique ideology as much as it is their fascinating songwriting.
The eclectically throwback material from Teenage Panzerkorps, its members based in both San Francisco and Berlin, is distinctively the collaborative work of punk-scene veterans. The vocalist, Karsten (Bunker Wolf), is a grizzly veteran who has been involved in the punk scene since the '80s, participating in projects with names like the Blowjobs and the Nazi Dogs. Unlike his other projects, he sings mainly in German for Teenage Panzerkorps. His explanation relies on what sounds most fitting for the style. "It's not straight punk-rock, but kinda progressive art-punk," he said in an interview with Razorcake. "[It] is perfect for some Teutonic singing." Fellow Germans like Neu! and Kraftwerk pioneered the familiarity of foreign linguistics within music by incorporating otherworldly sounds that sounded foreign to audiences both in Germany and overseas.
Angular rhythms, resourceful song structures, and subtly empowering hooks helped the "art-" tag in front of many genres flourish. Today, terms like "art-rock" are misused for dull and uncreative indie-rock acts like Arctic Monkeys, Muse, and The Kooks, who are adequate but certainly not deserving of a tag inspired by avant-garde tendencies. For purposes of contemporary indie-rock with a deserving "art" sub-tag, bands like Deerhoof, Sunset Rubdown, and Merzbow make more sense. Again, it tends to be a subjective classification for the most part, but some acts are unavoidable when bringing the classification up. Karsten's self-defined "art-punk" tag is legitimate, as one could see even on the swift seven minutes of Thee Incantations of Bunker Wolf or the captivating half-hour on German Reggae. These two new releases happen to be the most impressive offerings from the group thus far.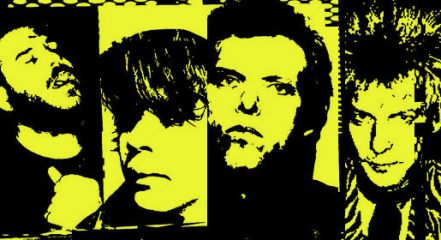 While not stylistically inventive like Neu! or Can, Teenage Panzerkorps incorporate the same smorgasbord of punk and post-rock influences as Savage Republic and The Ex, even if each act has a differing predominant influence. It included variations of punk for Savage Republic. For Teenage Panzerkorps, one could argue for post-punk and German kraut-rock. "Baptismal Foundation" is backed by a heavily distorted rhythm guitar, overshadowed primarily by high-pitched symphonic elements that craft a tragic feel to the song. The fluttering synth tones help make the transition into the more typical "V3", the first showcase on Thee Incantations of Bunker Wolf of Teenage Panzerkorps' straight punk roots. The percussion recalls Neu! in the sense that a conventional drum progression overlaps melodically with bass reverberations, which are emphasized more rhythmically than melodically. The result is a tightly coordinated punk-rock anthem that commendably lacks the over-intensity and aggression of many punk tracks and tributes. The placidly shifting guitars are more reminiscent of post-punk greats like Joy Division, with the sort of rhythmic inventiveness reserved for greats like Can, Neu!, and Kraftwerk.
"God an Ape" picks this intensity up a notch. Karsten's furious German delivery is wildly appropriate, as the heavy riffs envelop the budding frustration of his voice through sudden bursts of bare guitar, whose accompaniment quickly evolves to include full-bodied percussive accompaniments. The melody is built upon through high-pitched symphonic synths similar to the sort in "Baptisimal Foundation", and the tie-ins make references to The Fall and Mark E. Smith relatively apt. The Fall influence is even more prevalent on German Reggae, particularly the excellent title track. Back to Thee Incantations of Bunker Wolf, the opening "Afternoon Service" is equally haunting. Murmurs of voices and motor-like responses set the song in motion, sounding almost like eerie recordings from the ground where sounds of hell are apparent. Then, a triumphant-sounding synth progresses with a twinkling pattern resembling church bells. This is very brief though, as it quickly moves to "Baptismal Foundation" with surprising cohesion.
Several albums and a countless number of EPs into their career, the recent releases German Reggae and Thee Incantations of Bunker Wolf find Teenage Panzerkorps at their most mature. Gone are the boring drones and blistering repetition of early releases. Now, there is a fully evolving atmosphere apparent in their work, with hooks readily apparent alongside a vision that is more suitable for artistry than imitation. That is not to say the influences are not still there, though. If you doubted their self-proclaimed "progressive art-punk" tag before, German Reggae and Thee Incantations of Bunker Wolf should convince you otherwise. For fans of old-school punk and Kraut-rock, there are few promising and experienced acts today. Understandably, those opposed to the lo-fi scene in general will express ambivalence toward Teenage Panzerkorps, but willing participants are sure to enjoy the ride.
RIYL: The Fall, Can, Neu!, Harmonia, Cluster, Amon Düül II, Guru Guru, Silver Apples, Ashra, Suicide, Manuel Göttsching, Throbbing Gristle, Wire
Teenage Panzerkorps – German Reggae
Teenage Panzerkorps – Nerve Meter