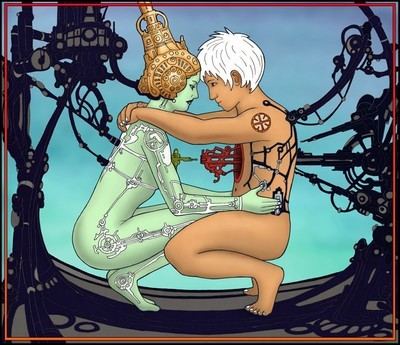 MP3: Icons of Andria – "The Girl Who Knows Where…"
Many conceptual album undertakings are by authors, painters, or other artists that wouldn't specify their first passion as music. The result is often impressive in some scope, perhaps visually or through literary means, but the music leaves much to be desired. Icons of Andria is one of few such projects that excels in several facets due to the members' varying experience as songwriters, visual artists, and authors. The concept is a futuristic love story, with plenty of illustrations and narration via sequenced Soundcloud comments. It's interesting enough. But most importantly for readers of this site, the music is beautiful.
The lead vocals of Fabiola Sanchez are angelic and sweeping, taking on a Björk likeness over Rodney Sellars' textural sounds of softly strummed acoustics, reflective keys, and ambient synth pads. "The Girl Who Knows Where …" is initially led by an acoustic guitar and grave horn, the lush soundscape reminiscent of Air tracks like "All I Need" and "Cherry Blossom Girl". Reminiscence of the latter is particularly strong during the chorus, when Sanchez assumes a gleeful tone over newly introduced percussion. Sellars' muted vocals during the bridge to this chorus are also a nice touch, even if Sanchez' knack for lead is impossible to overshadow. Listen via their Soundcloud to get the whole narrative experience. The band plans to release a song per month there as they slowly unveil the full story.