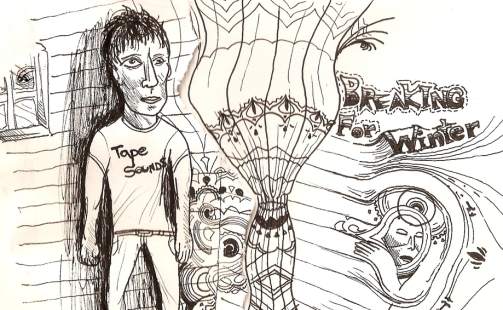 MP3: Tape Sounds – "Cosmosis"
The spaced-out work of Tape Sounds, AKA Massachusetts-based Nate Kellogg, presents experimental electro-psychedelia with steady synth-pad backdrops and alternating leads, the latter often projected through fastidious guitars or unique synth effects. Kellogg's project name is an apt title for what he's producing, an inventive clash of electro-pop and ambient hip-hop beats.  The tape-rolling, minimalist production of "Heaven's Waiting Room" works to its benefit, showcasing an engrossing fusion of picked guitar work and high-pitched floating synth pads. In this case, the guitar is mixed highest, but other tracks pursue different, more expansive fronts.
In "Gunna", the guitar assumes the background role that the synth pads often take over. A straightforward acoustic loop echoes consistently throughout the entire track, with various key loops providing subtle changes in pitch and melody along the way. With a tinge of Asian pop, it sounds somewhat comparable to Das Racist's most accomplished beats, especially when a sound akin to smoking a bong serves as the conclusion. "Rapping 2 U" comes to mind. A quality rapper could give these songs a different life, but they're fine just as they are for now. "Cosmosis" works with a quicker guitar arpeggio, with a distorted bass/guitar fusion providing a flexible backing that alternates with whimsy. When a sci-fi synth effect appears over the instrumental compilation at the track's mid-point, the guitars take up a more twangy gesture. These sort of subtleties make Tape Sounds' efforts so addictive. This is top-notch work from Kellogg, whose beat-making talents should be sought-after in no time.
Check out Kellogg's massive 32-track album Yugen, which he made over the first half of 2012. It's available at a pick-your-own-price rate on Bandcamp.