Posted
September 26, 2012 by Mike Mineo
in Tracks
MP3s: Creeptones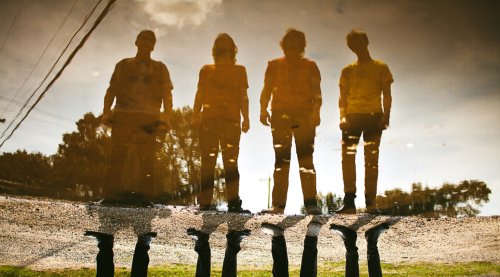 MP3: Creeptones – "Outlaw Tasty"
Despite having attained a respectable following in their native Toms River, NJ, the rich and melodic rock of Creeptones still has not achieved the blog buzz it deserves. That should change shortly. A single listen will likely get you hooked.
As one of their softer efforts, "Outlaw Tasty" is a soothing example of the quartet's inventive pop tendencies. Country-inspired guitar twangs and vivacious keyboard twinkles help construct a dreamy melody, which adds with Carmine Stoppiello's colorful vocals for something very memorable. His voice sits somewhere between the nasally blues/rock delivery of White Denim's James Petralli and the more somber, understated calmness of Wilco's Jeff Tweedy. It's a superb effort, and one that – for whatever reason – only has 100 plays in a year. This is great stuff.
"Living Beauty" pursues a more electronic sound, its grandiose sound complete with cathedral keys, pulsating club-synths, and heavy snares. The Postal Service and M83 come to mind, but for "Living Beauty" only. The majority of Creeptones' efforts are of the fun-loving rock variety. Don't let that label misguide you, though. While fun and brightly infectious, their efforts soar with ambition, full of unexpected structural turns and surprising melodic shifts. The teary-eyed optimism of "Back in a Few" reaches dizzying heights during its emotive chorus, where various vocal layers combine for glorious harmonizing. "I said 'I'm leaving here, but I'll be back someday, someday soon'," the chorus goes, accompanied by a rollicking guitar and a dexterous rhythm section. I could easily see a subtle string arrangement adorning this section, though several guitar effects do an admirable job of replicating that epic emotional quality.

MP3: Creeptones – "Back in a Few"