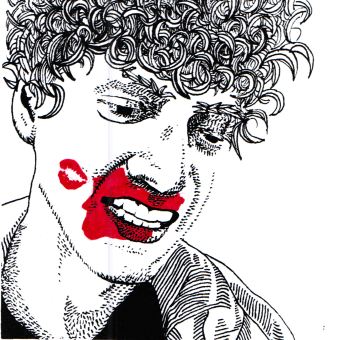 Lotus Feet's Animals in the Attic was one of my favorite releases of 2010, and easily one of the most memorable from an unsigned artist that year. Haunting organs and fleeting guitar scratches led a sound steeped in neo-psychedelia and garage-rock; it was a tidy fusion of dark nostalgia and modern DIY production. Lotus Feet, the solo project of Kris Lorenz, concocted grimy and nocturnal atmospheres akin to a David Lynch film. Now working with a band as opposed to staying solo, Lorenz' voice is still at a somber and deep crawl, sounding like the droll lovechild of Jim Morrison and Lou Reed. The new project is called Website, and Lorenz describes it as "an actual band rather than a solo bedroom thing." They released two tracks, both recorded on a cassette four-track and then mixed digitally.
Website's two-track EP features "Illuminated" and "Why Ask Why", two tracks that show more growth on the percussive and tonal guitar fronts when compared to Lorenz' bedroom material. The back-end of "Illusion" showcases a sharper correspondence between wavering guitar tones and intensified percussion, a somewhat stark contrast to the tonal consistencies of previous efforts like "Early Bird" and "Child's Play". One of the most striking elements of "Illuminated" are the industrial background effects. The buzzing array of droning sounds comprise the intro's majority, so when it subsides momentarily after the one-minute mark the other instrumentation sounds significantly more affecting. It's a haunting effort that drags along at an enjoyable pace.
"Why Ask Why" is in more of the post-punk tradition, its wispy synth pads and concise bass lines reminding of Bauhaus. The click-clacking of muted guitar plucks comprise a hypnotic lead, even as it just barely peeks out over the ominously creepy synths and lifeless moaning.  Lotus Feet's efforts certainly had more of an infectious pop appeal, but Website appear to be bringing Lorenz' penchant for chilling atmospheres into a new, more expansive realm of play.