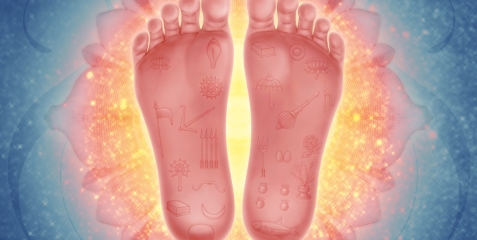 "Early Bird" quickly transitions between haunting organ sounds and quick swipes of guitar, the former more in the vein of neo-psychedelia and the latter more like garage-rock. A lovely meshing of vintage sounds, to be sure, much like contemporaries in the vein of Ariel Pink. Lotus Feet show comfort in their influences only to a certain extent though, as their musicianship is apparent in itself. They draw upon Pink Floyd influences later in the track with clashing frequencies and samples, all retained over the original melody that is fixed in organs, guitars, and a very pronounced bass. The beginning will probably draw comparisons to The Doors first, since Jim Morrison's voice is naturally comparable all throughout Animals in the Attic. Think if ever Morrison was attached to a Pink Floyd project. Lotus Feet is the closest you can get to that, so it helps that the musicians involved are all impeccably collected.
The icy keys in "Child's Play" sounds like it would be more at home in a Björk track, and it certainly sounds odd considering the two preceding tracks, " Early Bird" and "Evidence", is brisk neo-psychedelia with a vast assortment of instrumentation. But by the time the chorus arrives in "Child's Play", with its caressing bass and reflective guitar tones, the serene feeling of psychedelia re-emerges. "The apple I see fell far from the tree," the mysterious voice sings, constantly evoking natural images as he treads through the gentle arrangement. The production is strongly reminiscent of The Velvet Underground, with monotonous vocal deliveries emerging as champions over laid-back musical accompaniments that, underneath their placidity, are remarkably brilliant and complex. "Nothing to stress about while we're still young," he sings, capricious like Jens Lekman but complexly ambitious like Lou Reed. Like most of Lotus Feet's tracks, influences are strong, but the band's original songwriting is even stronger.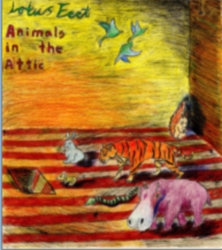 Lotus Feet could sound at home in any darkly mysterious film, particularly if David Lynch ever created some homage to the '70s psychedelic scene. That might be a mistake though, as Lotus Feet's music is the type that demands your attention. It will not reach conventional radio due to its broad scope, as the songs could delightfully stretch to 10+ minutes if need be and still sound adventurous and captivating. All eight songs on Animals in the Attic have their moment, per say, and most have several ones that recall nostalgically inventive songwriting at its finest. "Cold Days" almost gets caught up in its post-rock construction from time to time, while the subsequent "Hibernation" follows up on that desire and is a blissed-out space instrumental until the two-minute mark, when high-pitched strings and choir-like vocals serve as introductory measures to a folky interlude. The sound of an acoustic guitar here is particularly welcome, along with a lighthearted vocal accompaniment that for the first time on Animals in the Attic recalls perky '60s pop more than brooding psychedelia and post-rock.
Speaking of David Lynch, "Sunshine" sounds like it could have been lifted straight out of Twin Peaks. A video of The Man From Another Place dancing along to this and snapping has fingers has to be out there somewhere. It serves as a nice lead-in to the similarly retro "Take Time (Cabaret)", which sounds like early Dr. Dog material. This is probably as far back as the album spans, with this being an ode to music of '40s and '50s both lyrically and music. "As long as the song's in four-four time, oh the youngsters they won't mind," he sings aptly. The closer "Under the Blankets" fronts a haunting croon, a delicate acoustic guitar, and the sound of crickets and wildlife. An occasional flicker of keys give the track a translucent and nightly feel, establishing a fantastic mood to wind down after an extremely ambitious album. It solidifies the point that every song on Animals in the Attic is worthwhile, even if the sheer amount of ideas can be daunting to tackle. Give it a chance though. It is one of the most successfully ambitious albums of the year.
RIYL: Pink Floyd, The Doors, Ariel Pink's Haunted Graffiti, The Velvet Underground, Dr. Dog, Abernethy, David Bowie, Lou Reed, The Zombies, King Crimson, Jefferson Airplane, The Who, The Kinks, Jethro Tull, Camel, Porcupine Tree, Cream, Teenage Fanclub, Big Star, Iron Butterfly, Wishbone Ash
——————————————————————————————
——————————————————————————————
——————————————————————————————
——————————————————————————————