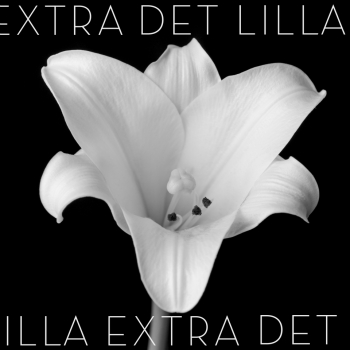 Even though The Knife seem to be the current face of oddball Swedish electronica, the scene is thriving with plenty of other talented groups like Det lilla extra. Based out of Umeå, Sweden, their grasp of dark and deeply affecting soundscapes knows no bounds. To be honest, I'm getting similar vibes from this group as I did with Grimes back in early 2010, when her future success seemed fairly obvious. In similar form, do not be terribly surprised if Det lilla extra become indie darlings by year's end; they have the sort of sound that can spread like wildfire. If there was an indies futures market, I'd put my money on them.
Listening to the variety of sounds on Det lilla extra's Soundcloud, it's clear that this is a group with an eclectic approach. Each of their tracks has a unique feel and instrumental/sample arsenal. The hypnotic "Himlen är nära" has the foreboding synth-pad backing of a Knife track, but with an infectious spoken beat-box sample that coincides beautifully with trickling guitar arpeggios and tropical percussion. The bass line's subtle melodic shifts also have the capacity to stun listeners. "Andra sidan" begins in more repeating house territory and features a swelling sample-led sound, which descends beautifully in key just before the one-minute mark. Ominous vocal samples and interweaving synth pads traverse this track's intoxicating hallways, capped off by a very infectious second half with higher-pitched, prickly synths leading the way.
Det lilla extra is perhaps the most impressive electronic group I've heard all year; they have an all-around stunning collection of hypnotic atmospheres, charismatic songwriting, and sleek production. Comparisons can stretch everywhere from The Knife and The Field to Radio Dept and Air. But overall, Det lilla extra are their own breed of excellence.