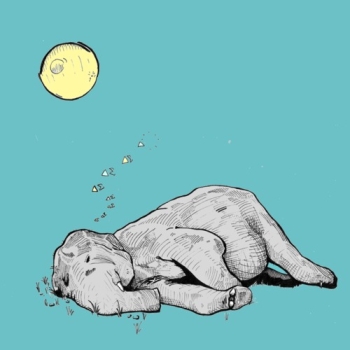 Like Matthew Herbert or Mirah before her, Koloto (Maria Sullivan) is capable of using natural sounds – like water droplets or the clinging of kitchen utensils – as leads in intelligently composed and highly melodic songs. The Canterbury, UK native shows a knack for extreme originality throughout her Mechanica EP, a five-track release that answers any questions you may have regarding Koloto's idiosyncrasies. It's not often that I hear an artist submission that sounds as distinctly original as Koloto, who produces an exciting vein of her very own electronic hybrid.
The percussion in EP highlight "Antares" is highly reminiscent of World's End Girlfriend, another brilliant composer who uses chopped-up, energetic percussion over extremely captivating soundscapes. Trickling synth arpeggios and coo-ing vocal samples travel the undercurrent here, providing stunning accompaniments to a track whose atmosphere is based out of a vibrant jungle, yet whose energy seems apt for early-morning hours at an ocean-side dance club.
"Antares" is an exceptional entry into the thought-provoking release that is the Mechanica EP, which also includes highlights like the trickily developmental pop epic "Cedar Shed" and the lushly cinematic "Kill Screen", which is guided by an elegant harp accompaniment before it blasts into high-intensity pop music, seemingly using samples culled from a casino — another fun example of Sullivan's sampling wizardry. It's another fantastic jam off the excellent Mechanica EP, which you can stream and purchase on Bandcamp.