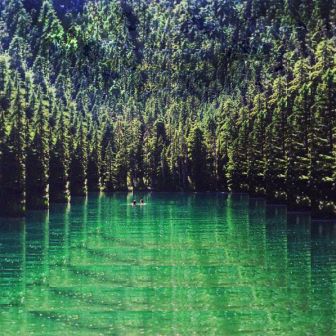 "Best Intentions" is the second single from Satchmode's EP Collide, released on the 16 January. The track was recorded and mixed at the band's home studio in LA and mastered by Dave Cooley (M83 and Silversun Pickups). The artwork is a scene of two people in a turquoise lake surrounded by trees. I mention this only because the image – like the track itself – seems to freeze time.
The track begins with a recording of a well-spoken man who seems to be giving a lecture on the nature of love, or maybe any type of human bond? I could only hear him saying, "Eventually it all collapses." He is then cut off by the pulse of a bass drum and low notes of a synthesizer. The effect is akin to being underwater. The vocals are reminiscent of Dougy Mandagi's falsetto for The Temper Trap. Reverberation has been used tastefully and the singer has performed with surety. Furthermore, the vocal melody has been well thought-out. The creators behind this track, Gabe Donnay and Adam Boukis, do not hide behind anything with their vocal delivery. It is pure and unapologetic.
The first lines of the song set the theme: "Love can only take us so far, you and I can't change who we are." Broadly speaking, the song appears to celebrate past love, rather than wallowing in regret about its demise. The track progresses through the stages of release between ex-lovers. In this regard, it is like looking through old photographs and coming away a little less scathed each time. The chorus, with its main "wouldn't trade your love" line, is positive, catchy and brings the song to fruition.
Satchmode sound fully formed as a band. The Collide EP interweaves the ambient and dream pop sub-genres, and "Best Intentions" is a welcome addition to a well-crafted collection.