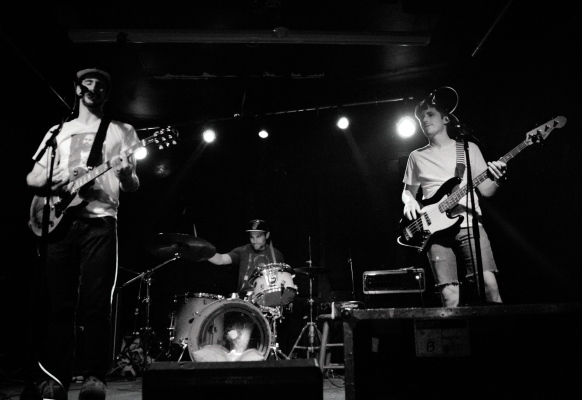 Miracle Fever incorporate suave rock verses with excitable hooks, reminiscent of artists like Timber Timbre, The Men, and Mac DeMarco. Their track "Light of the Moon" excels in this, with more than a touch of loose proto-punk reminiscent of Television's Tom Verlaine — and that's not just because the word "moon" is in the track title. Certainly, "Light of the Moon" revolves around that big celestial object, but more so its purpose as a guiding light. Yeah, I need to knock it off with the Television references, but Miracle Fever consistently remind me of them — and that's a very good thing.
"When we woke up to that starless night we asked the moon to be our only light," the vocals affirm. "It's our reflection and it hangs in the sky, no we're not afraid of questions, don't ask why." The guitars opt for a more rhythmic distorted quality, as opposed to a jangly lead, but it's a good choice in showcasing the ferocious vocals and playful percussion. If there were an indie music futures market within the current list of entertainment props, I'd bet on Miracle Fever for sure. "Light of the Moon" is one of four tracks off Miracle Fever's excellent EP Blue Sonic Temple, which includes highlights below like the sincerely rockin' "Pretty Lights" and punchy "Can't Change You Babe".
It's little surprise that Miracle Fever are comprised of indie-rock veterans, primarily based on the East Coast around Brooklyn, Boston, and the like. Blue Sonic Temple was recorded in band member Kenny Kusiak's hometown right outside of Boston. The EP's release is scheduled for June, with a release party at Glasslands in Brooklyn, where Kusiak has lived for the past three years. It's easy to believe their live performances is as exciting as their recorded output, which is plenty enjoyable.