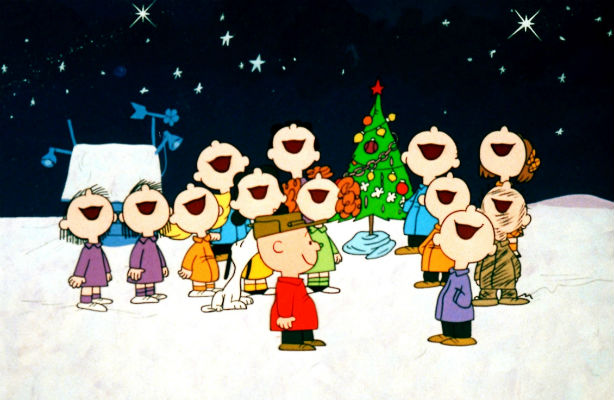 Stop burying your head in the sand, Christmas is on its way and there is nothing you can do about it. Instead of being in denial, why not embrace the season of joy and goodwill and start planning ahead?
Whether you're hanging tinsel, untangling those fairy lights, or mixing up a batch of Christmas puddings, you need a fun and festive playlist to help you get into the spirit.
So hop onto Spotify or get downloading on iTunes and add these sing-along songs, all in the spirit of Christmas.
12. Brenda Lee, Rockin around the Christmas tree – Kicking off the list, this song is great for, yes you've guessed it, rocking around the Christmas tree as you and your family fight over which bauble to put where and how much tinsel to use.
11. The Darkness, Christmas Time (Don't let the bells end) – A modern favourite, this rocking track by the Darkness has become a firm festive favourite for many people. With guitar solos and Justin Hawkin's incredible vocal range there's no reason why it shouldn't grace your playlist.
10. Elton John, Step into Christmas – With this upbeat song on your playlist you and your family can truly step into Christmas and embrace every jingle bell all the way.
9. Nat King Cole, The Christmas song – This calming, soulful song includes every wonderful aspect of Christmas all in three, festive, feel good minutes.
8. Jackson 5, Santa Claus is coming to town – This groovy version of the classic Christmas song will get the kids excited as they open their presents on Christmas morning.
7. Tom Odell, Real Love – Monty the Penguin has won the hearts of the nation in the new John Lewis Christmas advert, so add this tear jerking cover of John Lennon's Real Love by Tom Odell to your playlist, to warm your heart over the festive period.
6. Band Aid, Do they know it's Christmas? – The original (and best) version of the Band Aid song is a must for your festive playlist. Sing along with George Michael, Phil Collins, Sting, David Bowie and Bono in this meaningful but classic Christmas pop song.
5. Wizzard, I wish it could be Christmas everyday – It might get a little expensive having Christmas every day, but it's a nice thought and Wizzard's festive offering is one that needs to be on your ultimate playlist.
4. Mariah Carey, All I want for Christmas is you – One of the catchiest Christmas songs to ever enter the charts, All I want for Christmas offers everything you could ever want from a Christmas song; sleigh bells, soulful singing and an uplifting melody. Now prepare yourself for everyone to try and hit that really long, really high note.
3. Paul McCartney, Wonderful Christmas Time – Paul McCartney might be the 'Marmite' member of the former Beatles members but this jaunty Christmas tune is a classic and deserves to make your ultimate Christmas playlist.
2. Michael Bublé, Have yourself a merry little Christmas – Bublé's smooth soulful rendition of this festive ballad will keep Mum and Nan happy, as you tuck into that big Christmas dinner with all the trimmings.
1. Shakin Stevens, Merry Christmas Everyone – To complete your ultimate playlist finish off with this ultimate classic. Shakin Steven's pick me up festive tune (with bonus saxophone solo) will get everyone embracing the season of 'love and understanding'.