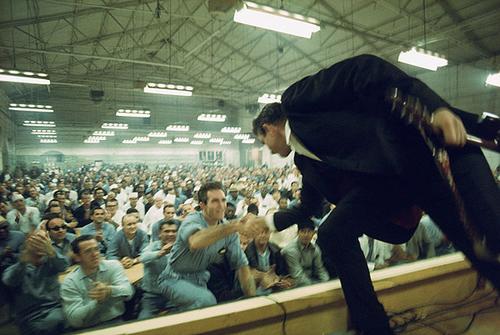 Rock 'n' roll and prison have always gone together as cosily as a pick and a lead guitar. From kicking the prison door until toes were broken (Johnny Cash) to nakedly driving a car into a swimming pool (Keith Moon), prison cells around the world have hosted music stars who have indulged in some of the most legendary lunacy one can imagine.
Some have spent a few hours in the slammers found on Jail Exchange and emerged blinking into the light the next morning to plan more havoc, while others have spent months or years behind bars, and never really recovered.
For example, Carl Perkins said that Chuck Berry "had been an easy going guy before…but in England he was cold, real distant and bitter." The moodiness on tour stemmed from Berry's time in prison; he had just been released after serving three years for violating the Mann Act, which prohibited the transportation of women for 'immoral purposes'. Berry, the man responsible for tracks such as 'Johnny B Goode', had taken a 14-year-old girl across state lines in 1959.
Berry's contemporary Jerry Lee Lewis never literally lived up to his nickname of 'The Killer', but in a chaotic life of seven marriages (including wedding his 13-year-old cousin) perhaps his lowest point was drunkenly driving to Graceland with a gun demanding to see Elvis Presley at 3am. Rolling Stone relived the incident here, detailing that it took five officers to arrest a rampant Lee Lewis and drag him from the car in the 1976 debacle.
Kurt Cobain allegedly assaulted his wife in 1993 in an argument about guns, although Courtney Love denied that it was anything more than wrestling. Cobain, by then the darling of the grunge scene was already no stranger to police, having been arrested for scrawling graffiti and trespassing in the mid-80s.
Tupac Shakur spent several months of a four-and-a-half year sentence in Clinton Correctional Facility after sexually assaulting a woman in a hotel room, although the rap star always denied the crime. He used the time behind bars productively, writing music and becoming the first artist to have a number one album while behind bars.
Shakur's fans will never know what would have ensued in his appeal, as he was assassinated in Las Vegas in 1996 after attending a Mike Tyson fight. Doors star Jim Morrison also died while an appeal was pending, having been sentenced to six months for exposing himself during a 1970 gig in Miami.
The Brits can also hold their own when it comes to finding themselves in prison cells. Stone Roses frontman Ian Brown threatened to chop off an air hostess' hands during a vodka-fuelled rant on a British Airways flight, landing him with a four month sentence. Ozzy Osbourne was still in his teens when he spent six weeks in a Birmingham prison for failing to pay fines for a burglary conviction, but obviously got a taste for it as he returned many times, including an incident  almost a quarter of a century later when he attempted to kill his wife in a drunken fury.
The 1960s were prime years for rock hellraisers of the highest order. Various members of The Beatles and Stones have spent time behind bars; Keith Richards and Mick Jagger have a string of drugs offences to their name but somehow managed to escape extended sentences.
In 1967 an infamous raid of Richards' Redlands estate resulted in two convictions that were swiftly overturned, while six years later another bust in Richards' Chelsea home in 1973 saw cops find not only drugs including "Chinese" heroin and mandrax tablets, but also a .38 Smith and Wesson revolver, a shotgun and 110 rounds of ammunition. The full story, told in this Guardian piece, only came to light in 2011.
But perhaps the most epic arrest was that of The Who's Keith Moon; how many other musicians can boast of incarceration following a food fight on their 21st birthday? Admittedly this one resulted in the destruction of a hotel, exploding toilets, and a naked Moon driving a Lincoln Continental into a swimming pool. It cost the wild man one night in jail, a $24,000 fine and a lifetime ban from performing in Flint, Michigan – but gained him one of the greatest rock 'n' roll stories of all time.