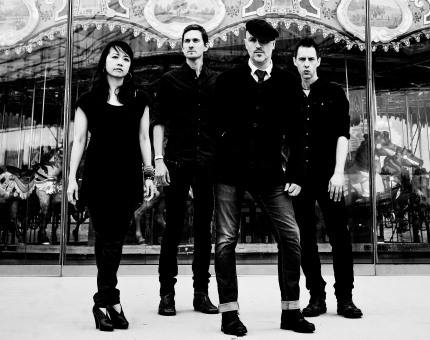 "Dancing Barefoot" by herMajesty is a cover of the 1979 song of the same name by Patti Smith, and while there are similarities between the two, there are more differences. Where Smith's original is based around the acoustic guitar, herMajesty turn on the electric guitars and add some synths for good measure. But rest assured, both versions definitely rock.
Smith's lyrics add to the overall hazy and uncertain mood. "Here I go and I don't know why / I flow so ceaselessly / could it be she's taking over me," sings the herMajesty frontman, JP, while the guitars ebb and flow beneath him. Smith's song sounds just as relevant as it did almost 40 years ago, and herMajesty do a fine job of conjuring it up again for those who are familiar with it and those being treated for the first time.
JP explains the track's inspiration on himself and the band: "When I heard the original, its psychedelic undercurrents and garage punk poetry resonated for me on a deep, intuitive level. The lyrics delivered in Patti Smith's iconic maelstrom jumped out of my laptop speakers and hinted at the mystical aspects of life, birth, and transcendence of death. I wanted to highlight the implied aspects of the original, that sense of losing oneself in another being, the awareness that with each beginning there is an end, and, in doing so, make it a lush, herMajesty song."
herMajesty consists of JP (vocals, rhythm guitars, programming), David Leatherwood (guitars, backup vocals), Joan Chew (bass), and Konrad Meissner (drums, percussion). Keyboards on "dancing Barefoot" were handled by Dov Manski.