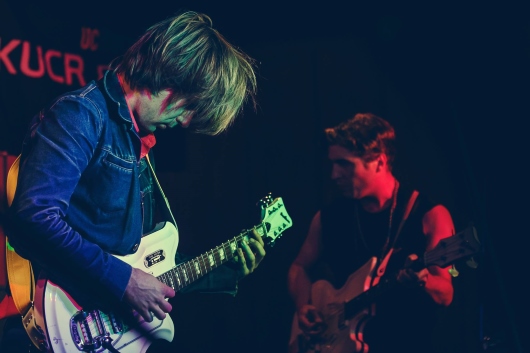 Islands are releasing their sixth and seventh albums, both on May 13th. In anticipation of that double release, which shows two albums with starkly different styles, the group has unveiled two tracks in "No Milk, No Sugar" and "Fear", both excellent in their own right. It shows one album's fascination with vintage synths and the others more stripped-down rock, essentially serving as a "spiritual sequel" to 2006's excellent Return to Sea. They're called Taste and Should I Remain Here At Sea?, respectively.
Here's what's known:
Last summer, Islands decamped to a little studio in Toronto to record the upcoming albums. Taste, Islands' sixth record, is a muscular, crystalline affair, with the majority of the music electronic, buoyed by drum machines, programming and arpeggiated vintage synths. The songs still flirt with Islands' bread and butter; evergreens such as ennui, remorse, and a general disenchantment with the modern world hover over the tracks, with lines like "we got so thrown, we felt lost at home" and "steal a little moment, lose it like you own it", to hammer home the point. The songs cut a wide swath, however, and also go in directions that Islands has never tackled, including police brutality and white male privilege (!).

Should I Remain Here At Sea? (a semi-reference to Tarkovsky's "Solaris") Islands' seventh album is, in many ways, a spiritual sequel to the debut album, 2006's Return to the Sea; a natural, raw record, stripped down to it's essentials, performed live off the floor. Reflecting on the decade that has elapsed, SIRHAS kicks off with a darkly funny tartness, tackling religion, race, addiction, and murderous fantasies, but by midpoint, the songs give way to a resigned and doleful melancholia, tackling heartache, numb disillusionment and emotional disorientation through the guise of stupid parrots, the Internet, sea turtles and perhaps the loneliest maritimer to ever sail the seas. It was recorded as spontaneously as could be, with some of the songs captured live in one take, vocals and all.

Both albums were produced by Nick Thorburn and Evan Gordon. Taste was mixed by Roger Levins and SIRHAS was mixed by Rob Schnapf. About the process, Nick says: "Contained on these albums are the saddest songs I've ever written, the funniest songs I've ever written, the catchiest songs, and the most satisfying songs. Excuse all the superlatives, but I honestly don't think I've ever walked away from a recording process more fulfilled and invigorated."
Islands has also announced east and west coast tours in the spring. The west coast run will be supported by Honus Honus (of Man Man), while the east coast dates will be supported by Lushlife.