Posted
September 19, 2016 by Mike Mineo
in Hip-Hop
Reid the Martian – "The Other Side"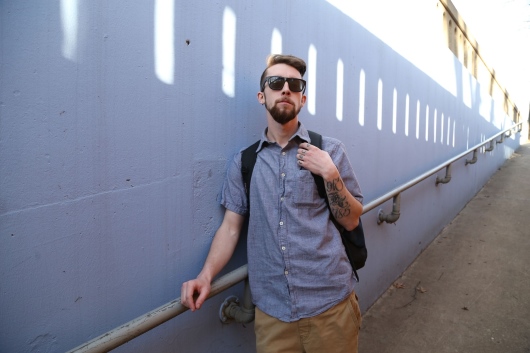 "The Other Side" is a soaring single from Reed the Martian, an artist based in Kansas City that incorporates spacey electronica and hip-hop into his sound. This past December, Reid returned to the studio to begin working on his new album, Excuses Not To Sleep. This is the first full-length album for Reid the Martian, and the first on which he's written and produced all the songs. The new album was finished in May and released June 10, 2016. This track shows what to expect, that being a rousing piano-driven melody that navigates between vocal-showcasing verses and an anthemic chorus that works very well. "Let it go, let it flow, I'll see you on the other side," he sings during this hook, before going into a spacey hip-hop section. The stylistic variety and shifting works well here and throughout the release.
A bit of backstory: Reid's first two singles as an independent hip hop artist, "Introduction" and "Work", were released in March 2012, under the name Rabbiteater. Also around this time was when he started making live appearances in the Midwest area, including Lawrence, Denver and parts of Texas. Reid spent most of 2014 composing and recording in Los Angeles with noted producers Duane "DaRock" Ramos (LL Cool J, Busta Rhymes, Jay-Z, Faith Evans, Mary J. Blige), and in Atlanta with Grammy winning producer Aldrin "DJ Toomp" Davis (2 Live Crew, T.I., Kanye West) and Miykal Snoddy (Trey Songz, Lupe Fiasco, Jamie Foxx, Diddy).
In December 2014, his song "I'm Sick" (produced and co-written by Miykal Snoddy) was featured on the Future Star DJs Black Friday mixtape release, hosted by DJ L-Nyce. Also in December, The Midwest Music Foundation selected Reid to perform on the main MidCoast Takeover stage at the March 2015 SXSW (South by Southwest) Music Festival in Austin, Texas. Reid released the song "Whiskey for the Devil" (co-written and co- produced by Miykal Snoddy) in February 2015 and released the full EP, Hardball, on March 17, 2015. Then came the official video for "Whiskey for the Devil," directed by Morgan Cooper, on April 17, 2015.