When you think of Vegas, you rarely think of anything else beyond the neon-lighted casino floors and Elvis impersonators. People will always flock to Vegas for gambling and sipping martinis at the lounge bar. It's just the way the city works.
But outside of the kitschy glamour of its famous resorts, Vegas has a decent selection of indie venues where you can forget about ever wearing your tux. Here you won't find any circus shows, magicians, or huge pop stars dancing across the stage. No, what you'll find here is good music, friendly crowds, and down-to-earth bands.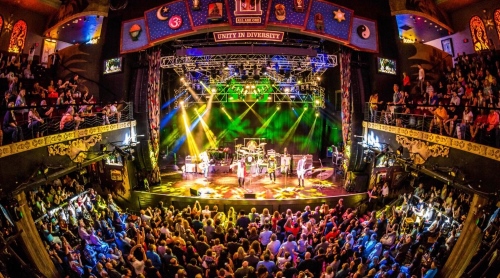 The House of Blues
If you've ever visited a House of Blues, you know what to expect. But for those who haven't, this soulful Vegas venue is the home to some of the best gigs and concerts in town. Launched as an homage and modern version of classic Juke Joints by none other than Dan Akroyd, this music franchise has become one of the best music joints in town.
And although it's not quite your typical indie bar, the House of Blues has seen its fair share of indie bands under its roof. What this venue does is that it takes the middle road by catering to both mainstream and indie bands, with interesting specials like the Gospel Brunch in between. This approach has given it the higher ground over other "restrictive" venues as it combines a variety of music with an interesting dining experience.
In short, go for the House of Blues if you are looking for:
Both mainstream and indie music;

Great food;

Typical Vegas events like Bubble Shows and Dance Halloween parties;

A nice selection of craft beers.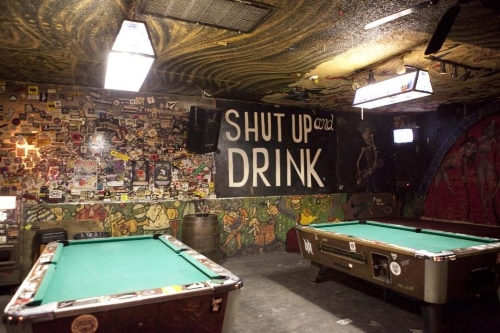 Double Down Saloon
The ultimate Las Vegas bar, the Double Down has been raising havoc on the Vegas music scene ever since 1992. The Double Down is also one of the most popular indie spots in Vegas for anyone looking for live bands and non stop drinking.  In fact, its unique atmosphere became so famous that they've opened a second one on Manhattan, which is more like a washed up version of the original.
The event book at Double Down Saloon is always full to the max with lesser known bands from the area and across the US. However, even though most of them are indie bands by default, the music you'll most likely to hear at this bar is punk, stoner folk, hardcore, etc. But if you ever get tired from the music scene, you can always go in the back and try a game of poker or their original Bacon martini.  
Namely, what makes Double Down Saloon stand out is:
Vibrant punk scene;

A distinct noisy, dark, and video-infused atmosphere;

Non-stop drinking and gambling;

Any hard liquor you'll ever need.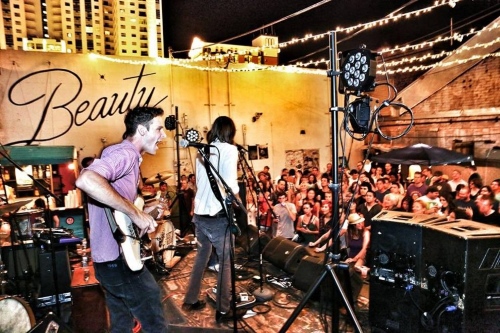 The Beauty Bar
And if you don't like the mainstream feel of the House of Blues, or the hardcore atmosphere of the Double Down, the Beauty Bar is your number one pick. Located on the famous (to indie fans) East Fremont Street, the Beauty bar is and has been the true home to indie music in Vegas.  
And although it might look like a pinup, boutique bar aimed at hipsters with a thick wallet, it's actually a very relaxed and cheap place to have fun. And besides, the bar itself is not where the real fun is.
The Beauty Bar has a backdoor patio hidden by a brick wall that you can't really notice from the outside, and here is where most of the gigs take place. The place is always booked to the max with bands playing anything from the mathcore chaos of Dillinger Escape Plan to the indie rock classics of the Walkmen. And if that ever gets boring, you have DJs and comedy nights almost every week.
In a nutshell, the Beauty Bar is your go-to place, if you're looking for:
A unique Retro vibe;

Cheep drinks;

The most diverse indie band offer in Vegas;

An open-space stage;

The famous Vegas indie collective Indie Krush.