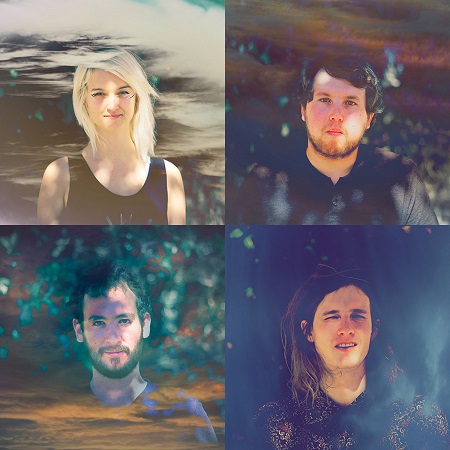 Young Tongue – a very promising indie-rock quartet out of Austin, Texas – just dropped their new single "Want" today. Comprised of husband and wife duo Stu and Liz Baker, along with bassist Nathan Ribner and drummer Darryl Schomberg II, Young Tongue maintain accessibility in their soaring, tightly constructed melodies — though with fascinating stylistic flourishes.
The Ribner-Schomberg rhythm section is a constant force throughout "Want", a steady backbone of preciseness. Particularly effective is around the one-minute mark, where guitar twangs and string flourishes extend over the tight rhythms as the vocal duet of Stu and Liz flows beautifully. There's a psych-friendly savvy around 01:46 – "across the storm" – that reminds of Pink Floyd-inspired magic, especially as the vocals subsequently creep in alongside the enveloping rhythm section thereafter.
Prepare for some guitar-driven experimentation around 03:30 onward, with the strings adding a beautiful symphonic element throughout as well. This particular section reminds of The Flaming Lips' guitar tones on Embryonic. The entire six minutes of "Want" is full of successful maneuvers, ranging from guitar-driven experimentation to accessibly sweeping vocal melodies. Young Tongue tout a strong, distinctive sound that elicits further replays.