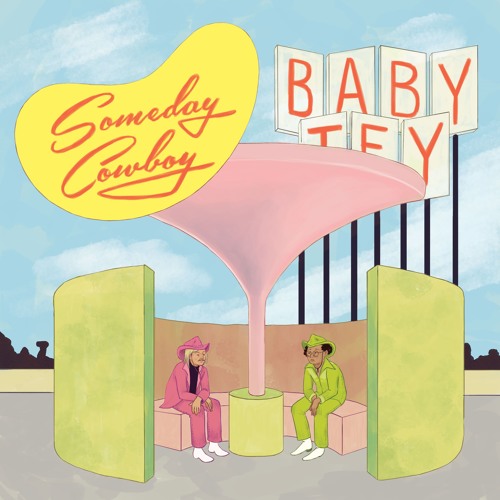 "Someday My Space Cowboy Will Come" is the first single from Baby Jey's upcoming full length Someday Cowboy. Lap steel guitar twangs with delight, as serene vocals glide over bouncy keys and a synth shimmer. A pop-minded, hook-y charm merges with a country-laden twang and yearning to result in a very pleasant aesthetic.
The album was recorded in two days, in the childhood home of lead vocalist Jeremy Witten. The writing showcases a nostalgia within the lyrics, with reminiscing about "tobogganing as kids and dreaming about cowboys, so it's fitting that Jeremy Witten was able to play the same piano where he first learned."
The band says the following on the track and upcoming release:
"For our forthcoming new record, Someday Cowboy, we threw Montreal producer Mitch Holtby into the mix. His multi-genre background spans a hip hop career that saw him open for acts like Big Boi, Cadence Weapon, Buck 65 and Chali 2na. This unique match between singer-songwriters and a hip hop producer may partially explain the album's unique blend of shimmery synths and pulsing rhythms with lap steel guitar and jangling mandolins. The song 'Someday My Space Cowboy Will Come' is a play on 'Someday My Prince Will Come.' It's a fun little tune about having a mirage in the desert."
"Someday My Space Cowboy Will Come" and other memorable tracks from this month can also be streamed on the updating Obscure Sound's 'Best of August 2018' Spotify playlist.