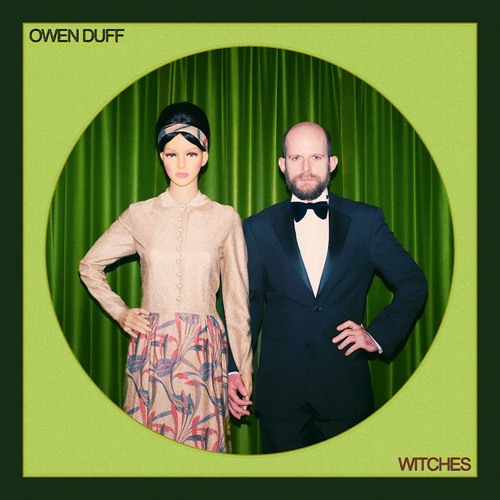 Owen Duff just released two previously unreleased tracks from his new album Witches: "Dalston Crazy" and "Julia." The London-based singer/songwriter impressed already with "You Amaze Me" and "Flawed Men" in recent months, and with these two new efforts continues to showcase a gorgeous sound steeped in captivating vocals and delicately evolving arrangements.
"Dalston Crazy" starts as a soulful piano-laden ballad, unveiling some spine-tingling melodic changes upon the 00:52 mark, when delicate piano accompaniments adorn Duff's stunning vocals. Aesthetically, I'm reminded very fondly of Plush's debut album More You Becomes You. Bolstered additionally by the orchestral stirring apparent during the track's most rousing moments, there's no doubting the power of "Dalston Crazy." Meanwhile, "Julia" loosens things up a bit as a catchier, more direct effort. It shows Duff's more hook-forward, effervescent side.
These two tracks are excellent showings of Owen Duff's versatility and evident talents as a songwriter/vocalist.
Regarding the inspiration surrounding the excellent "Dalston Crazy" Owen says the following:
I used to live in Dalston, which was a cool place to live for a number of years but is now a symbol of rampant gentrification and London's absolutely unsustainable housing crisis. I had some of the best times in my life (so far) there and clung on until the rent was unaffordable, somewhat in denial of the fact that the party was pretty much over. In those last months there I dropped into the late-night supermarket (Tesco in the song) on Kingsland road and bumped into a friend/acquaintance I'd once seen a lot in the east London bars and clubs that were now shutting down and being turned into luxury flats. I'd had romantic ideas about this person and think perhaps he had about me but we'd never pursued it, and I was now in a new relationship. The scene played out sort of as in the song – we met, we spoke, we left a lot unsaid, it was bittersweet.

I never saw him again. I came home and immediately wrote the lyrics pretty much as they are, the music took me years to complete as the rhyme scheme was so complex and I wanted to have the music perfectly express the feelings that are perhaps between the lines in the lyrics. There is a recurring theme of death all the way through the song, always ready to "tap me on the shoulder", and of the alternating hope (lottery scratch cards, flirting) and self-destructive urges (too much booze, plastic bags) of humans, leading up to the near miss with the car, and the wider death of this relationship not pursued, the road not traveled etc. I have a great idea for a video to go with this song that I hope I can make one day.
—
"Dalston Crazy" and other memorable tracks from this month can also be streamed on the updating Obscure Sound's 'Best of November 2018' Spotify playlist.
These tracks is also featured in the genre-based, best-of Spotify compilation Indie Folk.