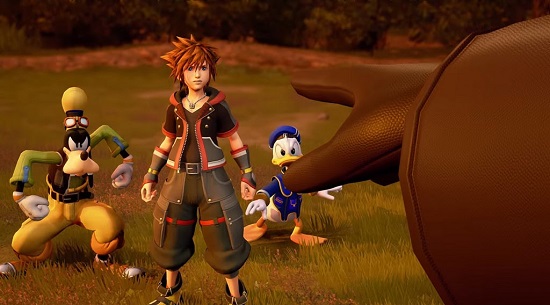 Music used to be something of an afterthought in video game production, but those days are long gone – it's now regarded as an authentic art form which is essential to the overall design concept. It captures a mood, creates atmosphere, dictates the pace and stirs the emotions. The soundtrack of your favourite game becomes an earworm hardwired into your brain, so it makes sense to give this ingredient the attention it deserves. This year brings the promise of many more highlights in gaming music, so we've identified four standout developments to look out for in 2019.
A cinematic symphony raises the bar
One of the year's most eagerly anticipated releases is Kingdom Hearts III, the latest instalment in a hugely popular adventure series from Square Enix. The return of this sprawling RPG epic has finally arrived, 13 years after its prequel, and it's been worth the wait.
Encompassing eight worlds based on Disney favourites such as Frozen, Big Hero 6, Toy Story, and Pirates of the Caribbean, the game's cinematic grandeur is writ large – and nowhere more so than a masterful soundtrack from legendary gaming composer, Yoko Shimomura. New compositions and classic themes are treated to a dazzling orchestral reproduction. The symphonic production of Kingdom Hearts III has raised the bar – future releases will need to raise their ambition to keep in step.
Anarchy in the UX
Much like Kingdom Hearts III, another of 2019's marquee releases owes a huge debt to its movie influence – but the contrast in style could hardly be starker. Inspired by the post-apocalyptic dystopia of the Mad Max films, the first-person shooter action of Rage 2 is an explosive ride driven by unrelentingly intense punk tunes which are in your face as much as your ears.  The music is as stripped down as the game's the cyberpunk costume design and packed with as much power as the anarchic gameplay. Rarely has a genre of music been so integral to a game's spirit, aesthetic and immersive user experience. Kingdom Hearts III might be big on production value, but Rage 2 is set to demonstrate how big riffs can be every bit as effective.
Gaming plays live
Dance music artists and video gaming have been converging in recent years. Marshmello has entered gaming territory with his own game-streaming platform and deadmau5 has used Twitch as a way to interact with fans while playing. Gaming is set to make its own inroads into uncharted territory with the announcement of a video game-themed music festival scheduled to make its debut in 2019. Insomniac, the same people behind EDC Las Vegas, are preparing to launch PLAY featuring a mixture of music, gaming, eSports, activations and cosplay. The event will be headlined by some of the biggest names in dance music and feature professional gaming alongside other celebrities. The virtual world of gaming and the physical world of live music both provide truly visceral experiences, so it only seemed a matter of time before the two combined within the same space. PLAY could be the first of many hybrid events.