Posted
May 3, 2019 by Mike Mineo
in Folk
Drinker – "California"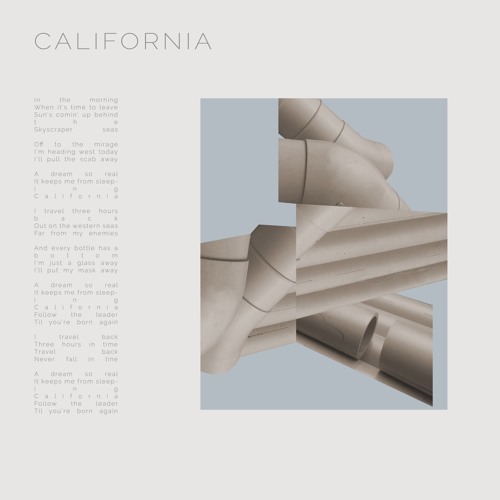 The moody "California" is a track released today from Drinker, the Brooklyn-based duo of singer/songwriter Aaron Mendelsohn and producer/compser Ariel Loh, who impressed with the track "Fragment II" last August. Both artists started the collaboration over a shared fondness for artists like Fever Ray, Bon Iver, and James Blake — essentially, those who churn out mysteriously inviting soundscapes while remaining melodically engrossing. Mendelsohn has sinced moved to Los Angeles; the project presently operates between two coasts, and their debut LP Fragments is slated to release this spring on B3SCI Records.
Ghostly acoustics and restrained vocals build as the spine-chilling vocal layers emerge as the one-minute mark approaches, the varying pitches casting a haunting feel over the brooding acoustics and minimalist though climatic percussion. The lush synth pad drop at 01:53 completes the track's striking soundscape.
The band put out the following regarding the track's background:
"California" is a song about leaving the reality I had come to know in New York for what I liken to a mirage, in California. I wrote this soon after arriving in LA, chasing something in music that felt more illusory and artificial than what I had come to know in New York. The California dream, which I think is a certain specific version of the American Dream based in entertainment…was all around me. The way the people try to climb the ladder, with no shame in their methods, made me wonder if I could keep climbing in my tactful way… Over time I have come to embrace the culture of LA that embraces the chase and the display of the hustle, but I wrote this in the early days when what was supposed to be a dream was seeming all too real.
—
"California" and other memorable tracks from this month can also be streamed on the updating Obscure Sound's 'Best of May 2019' Spotify playlist.