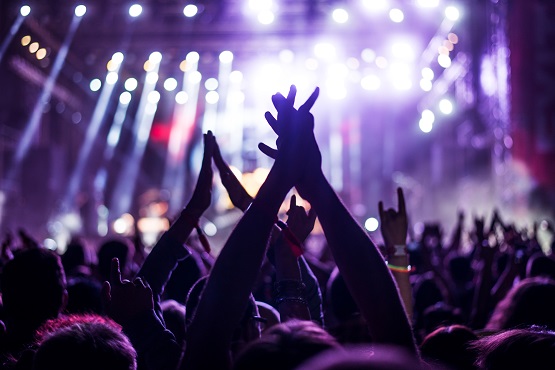 There are a lot of reasons to go on vacation, and there are a lot of things to do when you get there. You might be interested in visiting a theme park, it could be all about the shopping, or it might be the local cuisine that has peaked your interest.
No matter what your primary reason for planning a getaway, don't forget about the music when you're on vacation!
It's funny how something that is so important to our daily lives, like music, is put on the back-burner when we go on vacation. Enrich your vacation experience by making music a bigger part of your trip with these tips.
Book a Dinner Show at Your Destination
Most large cities, and especially common vacation destinations, are equipped to provide you with entertainment of all kinds. One of the easiest to find while you're on vacation is the dinner show.
For example, Myrtle Beach, SC offers many activities for vacationers, including some shows that come with dinner. Just a few options include:
Pirates Voyage Dinner and Show

Motor City Musical—A Tribute to Motown

Legends in Concert Myrtle Beach

The Carolina Opry

And Many More
No matter what your destination, do a quick search online for activities in the area. Chances are, you'll find at least one dinner show or musical entertainment that the whole family will enjoy.
Choose Your Destination Based on a Concert or Music Festival
There's likely a musical act you can check out, no matter where you're staying, but if the quality and type of musical entertainment you enjoy on vacation is important, you may decide you'd like to plan your vacation around a musical concert or festival.
There are dozens of music festivals scheduled throughout the summer all around the world. See what Coachella is all about or hop across the pond to the Glastonbury Festival. There's likely to be a festival in an area that interests you.
Don't forget to check in on your favorite artists to see what shows they have scheduled throughout the year. You might find that they're performing at a music festival, or that they're playing in a city you have always wanted to visit.
Participate in the Music Scene When You Get There
Catching a show and watching a musician live are great ways to spend an evening enjoying yourself, but who said you have to be a spectator? One of the most memorable ways to add a few tunes to your vacation is to participate in the music scene yourself!
That might mean booking a gig before you arrive, but participating in the music scene doesn't have to be so formal. Bring along your instrument and play on busy corner one afternoon, or stay in a hotel with a piano in the lobby.
Don't know how to play an instrument? No problem! Most cities have at least a few bars and restaurants that offer karaoke so you can sing your heart out in front of an audience you never have to worry about seeing ever again!
Create an Epic Road Trip Playlist
Planning a road trip can be a lot of fun. That is, until you're stuck in the car hour after hour with nothing to do. Make your road trip more fun by creating an epic road trip playlist before you hit the road.
There are a lot of great road trip songs to choose from, if you could use a little inspiration, but any song you like can be added to your playlist. You'll have tunes to sing along to while you're in the car on the way there, as well as when you're on your way back home.
Create a Playlist of Your Trip After You Return Home
Choosing the right songs can help you get pumped to go on vacation, but music can also help you remember your vacation better. That's especially the case if you create a playlist after you return home.
Using one of the many music apps that are available, you can search for songs and bands you discovered while you were on vacation. Add them to a list and listen to it any time you want to remember your trip.
There are a lot of fun things to do when you're on vacation, but don't forget about adding more music to your experience! There are many ways you can add a little music to your trip, especially if you take the time to follow the tips on this list.