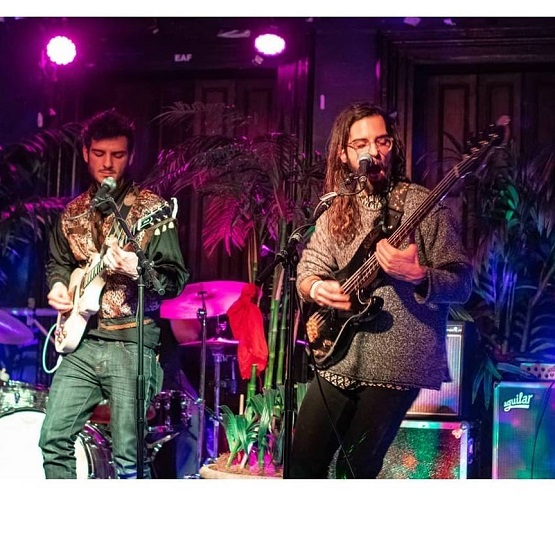 "I Can Do What I Want" shows a bustling, psych-friendly soundscape from Different Places In Space, a duo from Pittsburgh, PA. They describe the effort as "a song about empowering yourself and not worrying about what other people think of you." The five-minute gem opens with a murky, active rhythm section with a dose of vintage synths over the hypnotic vocal repetition — lyrically reflecting a confidence to be your authentic self.
Heady guitar work and a touch of vocoder do well past the one-minute mark in gearing listeners up for the ensuing developments. The chorus, a blend of both singers singing and harmonizing, consumes with psych-friendly allure. Throughout, the space-echo and delays maintain a mysterious, spacious vibe alongside the ruminating rhythms and nocturnal synths. Badboxes contributed to the recording.
The duo elaborates further on the track's creative process: "This track emerged out of two songs that were both tuned in B and then were decidedly fused into one. One song was one more of an indie-dream rock vibe and the other was more of a funk-jam. So the one tune became the chorus or the main mantra in the song and the other song is the the funk riff with the talk-box effect filling it out and giving it some more character."
Stream the track on your platform of choice here, or via the Spotify embed below:
—
"I Can Do What I Want" and other memorable tracks from this month can also be streamed on the updating Obscure Sound's 'Best of July 2019' Spotify playlist.
The track is also featured in the genre-based, best-of Spotify compilation Hypnotic Psychedelia.